'Skills for the Future'
Tuesday 5 March 2019
Celebrating Scottish Apprenticeship Week
In celebration of Scottish Apprentice Week we welcomed the Minister for Mental Health Clare Haughey MSP and Michael McDaid from Skills Development Scotland to our Cambuslang Office. There they met with Support Practitioners Courtney, Chelsie, Colin and Colleen who shared their experiences of Modern Apprenticeships in Health and Social Care, which they are completing alongside a Scottish Vocational Qualification (SVQ) level 2 Health and Social Care.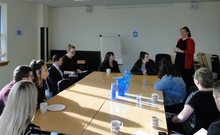 The group explained how their apprenticeships and training has equipped them with the knowledge and skills required in their role. Lots of great examples were shared about how they have applied learning around methods such as 'Active Support' to help people achieve goals and the things that matter to them. Courtney, Chelsie, Colin and Colleen spoke with real pride about the outcomes that both themselves, and the people they support have achieved. The Minister was left in no doubt about the skills and values they possess!
The Minister and Michael also spoke with the Area Manager Michelle Kelly as well as Erica and Joy from our Learning and Development Team. They explained that The Richmond Fellowship Scotland employs around 3000 staff, 500 of which are between the ages of 18-25. Also, as an approved SQA employer we invest heavily in learning and development offering all our staff a range of training and professional development opportunities.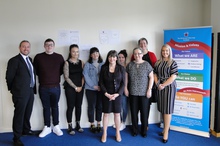 We partnered with Skills Development Scotland and Alma Training to secure Scottish Government funding for Modern Apprenticeships for a number of young employees. To achieve the awards staff demonstrate core skills and take part in work based learning, which includes reflective practice and direct observation. This helps develop 'Skills for the Future' for a career in the care sector, and ensures that staff are appropriately qualified to register with the Scottish Social Services Council.
Reflecting at the end of our discussions, the Minister stated that the experiences and insights shared highlight how rewarding a career in social care can be; and we certainly agree! If a career in social care interests you, find out about the opportunities The Richmond Fellowship Scotland has to offer by visiting our Vacancy Page.