Awards Ceremony Hits the Right Note
Wednesday 3 April 2019
Awards Ceremony Hits the Right Note
Evidence based practice skills staff to help them improve personal outcomes for the autistic people they support.
Yesterday staff who have achieved the Certificate in 'Outcome Based Support Planning for Autistic People' gathered at Napier University to receive their awards.
Austen Smyth, CEO, opened the day by sharing how proud he is of the commitment to training and development, and in particular towards providing staff with the knowledge and skills to support autistic people, people with learning disabilities and individuals with complex needs. He was keen to congratulating candidates on being enthusiastic about completing qualifications while working and the extra work and commitment that is involved.

Executive Director for East and North spoke about the importance about being responsive to changes in autistic culture such as using identity first language. Talking about autistic people instead of 'people with autism' is a reflection that people should not be seen as separate from something innate and integral to who they are, as we work towards a more inclusive society.

We were also pleased to welcome Linda Hume from Napier University. She highlighted the importance of this qualification which has a foundation in evidence based practice. She emphasised that
"the Autism Certificate is not just about increasing staff knowledge, it is about improving personal outcomes for the autistic people we support."
Morna Cowley, one of the award winners, shared her experience:
"Many attempts to communicate are nullified by saying too much"
Over the duration of the course she realised that she was over emphasising her own forms of communication to try and support people:
"I was missing so much by using more of my communication, more talking, more gesturing"

Through learning to tune in to the ways the autistic people she supports were communicating she could understand and support them far better. Extra congratulations go to Morna who has recently been promoted to a Senior Support Worker post in our Highland Services.
Guest Speaker, David Nicholson was brilliant in outlining the pressures that come from having to mask who you are if you are autistic.

One of his greatest passions is music and in particular fiddle playing. He talked about relying on playing a few tunes on his fiddle to relieve tension or escape from daily pressures. David also talked about how being with his fellow musicians in the Scottish Fiddle Orchestra is one of the few places he can feel truly relaxed and be himself amongst friends. He discussed the positive impact of passions and how these can be used to navigate difficult situations for autistic people.
He sent the Autism Certificate graduates off with this message,
"we are different but difference is good...in a world where intolerance is rife, we need to fight. See our condition in a positive way... after your Certificate it is up to you to go out into the world to make it more Autism friendly"
We were then treated to a couple of fiddle pieces by David giving us time to reflect on the message he'd wanted us to take away.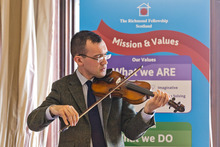 "I will never regret for a moment being on the autistic spectrum, I will never apologise... being autistic will not be a barrier to me." David Nicholson, Autistic Speaker & Advocate