Making the Shortlist
Friday 5 April 2019
Recognition for our Positive Behaviour Support Team for their innovative and evidence-based training; and for the empowering approach of Senior Support Worker, Erin in promoting risk enablement.
TRFS is proud to have been shortlisted in this year's Scottish Social Services Awards under not just one, but under two categories.
The awards, run by the Social Work Services Strategic Forum, celebrate the work of Scottish Social Services and the individuals, teams and organisations making a positive difference to people's lives.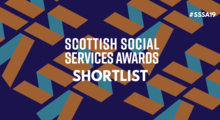 Our Positive Behaviour Support team have been shortlisted under Category 3: An Enlightened Approach, for the training in Active support for staff working with individuals with challenging behaviour and complex needs. The training focuses on ensuring staff have the skills to support people to engage in all parts of their daily lives through inclusion using an evidenced based approach. The training is providing staff with not only classroom based learning but practice observations and in service support. The impact of staff's news skills has resulted in a better quality of life for the people we support, with skilled staff able to demonstrate the positive outcomes that have been achieved.
Erin Stevenson, Senior Support Worker, South Lanarkshire has been shortlisted under Category 7: Leading for Impact. Erin took the initiative to seek out, research and train in evidence based support methods to improve her practice. By demonstrating the positive impact the risk enabled approach had on the outcomes for the people she supported, Erin was able to lead by example and empower her team to change and improve their everyday practice, enhancing the experience and outcomes for those they support.
We are also proud of our contribution, as part of North Ayrshire's Health and Social Care Partnership to the short listing of the "Involved! Group" under Category 10: Excellence in Mental Health Services
All finalists will be making a short film to illustrate their award entry, which will be shown at the awards ceremony. We are of course up against some tough competition.
Congratulations to everyone involved, we wish you the best of luck at the awards ceremony in June.
You can read more about the Scottish Social Services Awards here.