'Excellent' Grades All Round for Perth and Kinross
Wednesday 1 May 2019
The Perth and Kinross housing support and care at home service are celebrating after the Care Inspectorate find the service to be delivering an 'Outstanding and Sector Leading' service.

The service was awarded grade 6 'Excellent' for both the Quality of Care and Support and Quality of Staffing. This compliments the grade 6 already awarded for the Quality of Management and Leadership awarded from the last inspection.

The team have been presented with a glass house in recognition of this fantastic achievement. Wendy Williamson, Area Manager, congratulated and thanked staff for all their hard work, dedication and commitment to continuous improvement, all of which contributed to the fantastic report.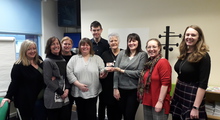 The inspector spoke highly of the service in the report, complimenting every area including the support, reviews, partnership working and training. Of the staff he commented that, "there was an excellent staffing mix in terms of knowledge and skills, and workers who brought a great amount of enthusiasm, and positive life experience to their roles."
He summed up by stating "one of the most impressive aspects of the service's support for people was that the staff, including senior staff, went out of their way to ensure that people were supported to be as independent and in control of their lives as they wanted to be, whilst recognising the need to keep them safe from the risk of harm."

Executive Director Richard Ibbotson said " It is great to see the fantastic achievements of the Perth services being recognised and it provides us with a really solid foundation for the new services we hope to develop in Perth and Kinross later in the year."
The full Care Inspection report can be read here.