The Road to Hampden Park
Friday 3 May 2019
Real Richmond are once again on the road to Hampden Park after making it into the final of the SFA Mental Health Football league once again.
Real Richmond football team have been taking part in the pre-season league of the SFA Mental Health Football league over the past 3 months in the football stadiums of Clyde FC, Alloa FC and Stenhousemuir. This involved 7 games each month against opposition from teams around the country .
As the team entered Tuesday's games, they were sitting 2nd top of the league and required to win all the games to win the league. Tuesday saw an outstanding performance from everyone involved in the team that is made up of individuals from Balmoral Gate service and Glasgow West service as well as Inverclyde services. By winning all 7 games, the team won their group by 1 point after losing only 1 game out of 21 matches. As part of the fun around the tournament, the team have been able to meet up with the sponsors of the tournament, William Hill, and have been filmed and interviewed by famous footballers, with the film likely to be shown on national TV prior to the final.
The team have been invited along to Hampden Park to take part in a mini tournament prior to the cup final and afterwards will be given VIP tickets to watch the Scottish Cup final . This has been a great incentive for the team, and has surely inspired them to reach this high level of performance. Over the last few years since the team was formed, all the players have developed a great team spirit, created great memories and formed firm friendships. They should all be proud of their achievements. Everyone is looking forward to attending the Scottish Cup Final, no matter the outcome of the match, getting there has been a massive achievement and we already know that Real Richmond are the champions in our eyes.
Good Luck!!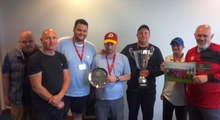 Here are some of the team after lifting the cup last season.