Celebrating a New Era for Todhill
Friday 17 May 2019
It was blue skies all the way as supported people, families, neighbours and distinguished guests gathered to celebrate the start of an exciting programme of investment and redevelopment that will see Todhill in Stevenston transformed!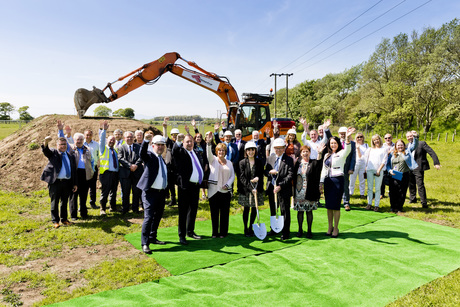 Todhill is home to a number of supported people and includes a Day Centre Service offering a range of vocational and fun activities including horticulture, arts and crafts and animal husbandry. The first phase of our master plan will see 17 new home built for people we support. These have been architect designed to respond to the needs and preferences of the people who will live in them, but also so that they fit harmoniously with the surrounding natural environment.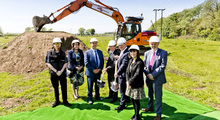 Construction of the homes is now underway. Presiding over the sod cutting ceremony was Tom who lives at Todhill, Neil our Management Committee Chairperson, and Austen our Chief Executive. We were also delighted to be joined by Patricia Gibson MP, Kenneth Gibson MSP, Thelma Bowers from the North Ayrshire HSCP and Scott Murray, Managing Director of our construction partners Timetra.
The next phase will see the full potential of Todhill's beautiful 105 acre rural site unlocked as we create new and imaginative opportunities for supported people to achieve the outcomes that matter to them. Watch this space for updates!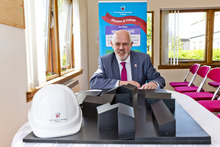 For more information about Todhill and the improvements we are making please contact Teresa Thomson: tthomson@trfs.org.uk