Erin is the Winner!
Wednesday 5 June 2019
We are proud to announce that Erin Stevenson, Senior Support Worker for TRFS has received an award from SSSC for Leading for Impact at a Ceremony held in Edinburgh.
The judges described Erin as: -
"someone going above and beyond what their job description requires, determined not just to do a good job but to provide the best support possible"
Please find below a link to the SSS Awards Twitter where you can hear Erin explain how important Active Support is to the people we support.
https://twitter.com/SSSAwards/status/1136291053265461248
Well done Erin!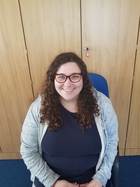 Congratulations also goes to our Positive Behaviour Support Team who were shortlisted in the category of 'An Enlightened Approach'.