Learning from the Expert
Monday 12 August 2019
In our mission statement we promise to listen to the people we support so that we help them achieve what matters to them. Our Highland service team recently gave an excellent example of how we demonstrate this commitment.
The North Region Learning and Development Team have been collaborating closely with David, who is supported by our Highland Team. David had developed a presentation around his life story, which he and staff recognised could be a great training tool. Working alongside Caroline (a Regional Learning Coordinator) David created learning materials such as prompt cards to accompany his presentation, which he now delivers as part of our Core Values training. Indeed the insights that David gave were so powerful that he and Caroline co-facilitated the Core Values course, taking new staff through a range of training exercises.
Staff who received the training certainly understood the value and impact of hearing David's life story:
"It was great to have someone sharing their own experiences. David was amazing and really moved me with his courage."
For David, becoming involved in staff training is a real achievement. More over, it has helped him feel good and stay well;
"I have been working with the L&D training for the last month. As I have mental health issues, this has really helped me see positives in life... I done a prep talk with Caroline. During this, I was a little nervous, but she assured me that I was not alone and helped me talk about my past experience. I believe over time, this has become a lot easier for me".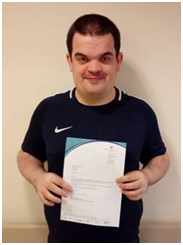 We're delighted that everyone involved has benefited from David's involvement and we thank him for sharing his expertise!
For more information about the Richmond Fellowship, our sector leading training, or the ways we live our values please contact info@trfs.org.uk