Fantastic Feedback!
Thursday 26 September 2019
We are proud to report the results from our annual satisfaction surveys.
In our mission statement we promise to listen to people and help them achieve the things that matter to them. To help ensure we are doing just that, every year, we ask the people we support the question 'How Well are We Doing?'. Our annual satisfaction survey is now in it's 13th year and we continue to receive high levels of satisfaction.
1034 supported people responded to our 2018 /19 survey, representing a healthy 42.8% response rate, the best response for a number of years.
Here is what people told us:
96% said we give them the right support and help them feel safe and secure.

95% said the support helped them stay well.

94% said staff listened to them and respected them.

93% said their service was well managed.

92% said we give them choices to help shape their support and help them achieve the things that matter to them.

88% said we help them to get involved and have fun.

85% said their support helps them feel connected and involved in their local community.
These are really positive results which are made even better when we look at the comparable questions in our survey with those in the Scottish Government's bi-annual Health and Social Care Experience survey. Our satisfactions rates are considerably higher: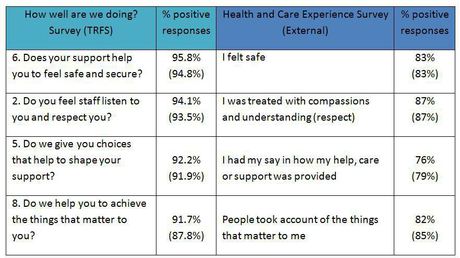 The great feedback continued in our Families and Carers survey, now in it's 10th year. The results of which mirrored those from supported people:
98% said staff listen to and respect their family member.

97% said they feel their family member is safe and know how to contact the service.

96% feel the support helps their family member stay well.

95% feel the support makes a positive difference to their family member's life; agree we give their family member choices that help to shape their support; and said the staff have the appropriate skills and knowledge.

94% said staff are well matched for their family member.

93% say we support people to achieve their outcomes.

92% feel we support their family member to feel connected and involved in their local community; get involved and have fun; listen and respond to any suggestions or comments they make; are happy with the consistency of the staff team supporting their family member; and feel the service is well managed.

90% feel we provide enough information about the support we provide their family member.

85% feel they are informed of changes to the support.
Results like these give us confidence that we are getting things right for the people we support, and they confirm why 98.8% of our Care Inspection Grades in 2018-19 were 4 or above (with 71% being either 5 or 6). They also demonstrate the impact of our quality assurance processes. Earlier in the summer we reported on our annual KPI performance which revealed (among many things) that 99.9% of people had their support plan in place within 4 weeks of their service beginning; and that 98.7% actively participated their review of their care.
We are delighted to receive such fantastic feedback, but there is always ways to make improvements. We will continue to do more to help people get involved and have fun, and to feel connected and involved in their community. For Families and Carers, we will focus on our communication with them, and will strive to demonstrate a real customer service approach.
Thank you to all those who gave us such positive and useful feedback!