Award Winning Restraint Reduction
Wednesday 13 November 2019
Innovation at an International Level
We are delighted to have received the award for 'Highly Innovative Practice in Restraint Reduction (Social Care Setting)' at The Restraint Reduction Network Leadership Awards 2019. This internationally recognised award was given in recognition of work to develop specialist skills within the organisation through our Complex Needs Learning Pathway and the impact of our Restraint Reduction Strategy.
Marie and Jim from our Positive Behaviour Support Team were on hand to collect the award and to present poster case studies highlighting the transformative effect that our Positive Behaviour Support based services have on improving people's quality of life.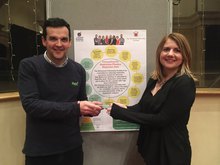 Congratulations to them and to all our staff who have worked hard to reduce or remove the use of restrictive practices for people with complex needs and challenging behaviours!
For more information about how we support people with complex needs to achieve the outcomes that matter to them please contact info@trfs.org.uk.