Learning on the Job!
Monday 16 December 2019
In TRFS we recognise all kinds of achievements both for the people we support and staff.
We are delighted to celebrate with colleagues from our Payroll Team who have successfully completed their apprenticeships in Business Administration Level 3.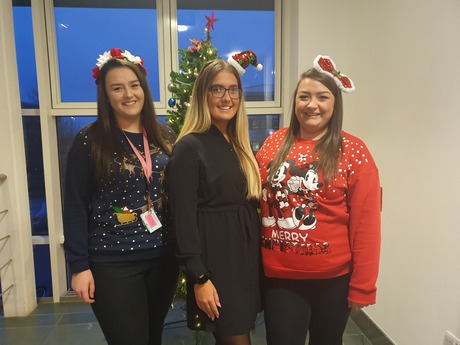 Georgina (right) started with the organisation straight from school in May 2015, Lara (middle) started with the organisation in March 2017 and Aimee (left) started with the organisation in December 2018 and all completed their apprenticeships within 9 months.
All ladies had to complete three mandatory units and five additional units in order to receive their qualification.
Mandatory Units
- Plan how to manage and improve own performance in a business environment
- Review and maintain work in a business environment
- Communicate in a business environment
Between them they have completed the following Additional Units
- Calculate Pay
- Plan and organise meetings
- Store and retrieve information
- Analyse and report data
- Deliver, monitor and evaluate customer service to internal customers
- Support other people to work in a business environment
- Review and maintain work in a business environment
- Taking minutes
- Using emails
Supporting staff through their apprenticeships brings many benefits to both the apprentice and the organisation. Apprentices are given a fantastic opportunity to gain experience in an office environment and earn as they learn. The organisation benefits from having young enthusiastic employees who are keen to learn from the experienced and long serving staff within their team.
Payroll Manager, Connie Crawford, said "I am extremely proud of how hard Georgina, Lara and Aimee have worked and of them achieving their qualification. They contribute greatly to the busy payroll team and the organisation are lucky to have such motivated and committed staff.
With over 3000+ employees to pay each month, the ladies add to the huge part the Payroll Team play in the organisation paying staff accurately and on time".