Going for Gold - Bringing home the silverware!
Friday 20 December 2019
Head Office Honchos bring home the prize!
As part of their participatory funding events, South Region held a 'Going for Gold' event at Toryglen. The event was made up of a mini Olympics and involved supported individuals and staff from across the Region.
The Going for Gold event took place on 9th August which was a day of fun and games for both the supported individuals and the TRFS staff. The main event consisted of a 5 a side football tournament. After some well played matches, it all boiled down to the final. The Head Office Honchos team faced off against Cherry Tree Court for the Going for Gold trophy.
The Honchos kicked the ball out of the park to stomp back to head office with their heads held high, having won the match and the tournament.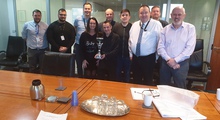 A presentation took place on 13th December for the winners of the trophy – 'Head Office Honchos'.
Participatory funding allocates a pot of money for each region with the condition that it must be spent on 'fun' activities which promote positive outcomes such as 'getting involved' for all those who take part. The people we support develop "bids" which are then voted on by people we support at local events. A lot of hard work goes into the bids and the events themselves.