Award Winning Partnership
Monday 24 February 2020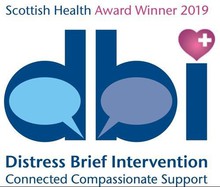 The Distress Brief Intervention (DBI) programme was both a finalist in the Integrated Care Category and Winner in the Care for Mental Health Category at the Scottish Health Awards on the 14th of November 2019.
TRFS is proud to be part of this ground breaking work, and has been working alongside partners in South Lanarkshire as Level 2 practitioners across Hamilton/Blantyre and Rutherglen/Cambuslang.
Distress Brief Interventions (DBIs) are an innovative way of supporting people in distress.
The need to improve the response to people presenting in distress has been strongly advocated by people who have experience of distress and by front line service providers, resulting in the DBI pilot.
DBI consists of two parts, with part 1 seeing trained front-line health, police, paramedic and primary care staff help ease any individual. They then ask the person if they would like further support and, if they agree, they are referred to the DBI service with a promise of contact within the next 24 hours to start providing further face-to-face support.
Part 2 is provided by commissioned and trained third sector staff, including TRFS, who contact the person within 24-hours of referral and provide community-based problem solving support, wellness and distress management planning, supported connections and signposting.
The pilot operates in four sites-South and North Lanarkshire, Aberdeen, Inverness and the Borders. It has been extended to 16-17 year olds in South Lanarkshire.
The new Mental Health Strategy for Scotland 2017 – 2027 reaffirms the commitment to DBI through the inclusion of action 11, which aims to "complete an evaluation of the Distress Brief Intervention Programme by 2021 and work to implement the findings from that evaluation"