PDA Awards 2020
Thursday 27 February 2020
On Valentine's Day, 2020, we gathered in Edinburgh for our Awards Day, when 33 staff received their professional awards from Edinburgh Napier University.
Staff from every region came with their line managers to celebrate their achievements and collect their certificates from Austen Smyth (Chief Executive) and Jim Fraser (Chair of Management Committee). They had all achieved one of the following qualifications:
Management and Leadership Award (SCQF Level 10)
Professional Development Award in the Management of Challenging Behaviour (SCQA Level 9)
Certificate in Outcome Based Support Planning in Autism (SCQA Level 8)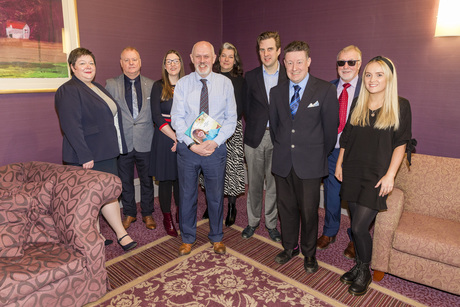 The theme for the day was "making improvements". Austen Smyth reiterated our commitment to the high level of learning and development from our Team Managers, Senior Support Workers and frontline staff that these courses represent.
Erica Stewart-Jones (Head of Learning and Development) explained that with the close of this programme 90% of our managers now have the required qualifications for their registration. The focus of the programme to go beyond a 'tick box exercise' and invest in managers' leadership capabilities. Our theme this year was in identifying "what is my work" (Meg Wheatley) to drive improvement through a balance of transactional and transformational leadership. This year 7 Team Managers achieved the 'Management and Leadership Award' with two more expected to complete their course shortly. As a result in the coming year we will spend time investing in embedding these skillsets into our leadership community of practice.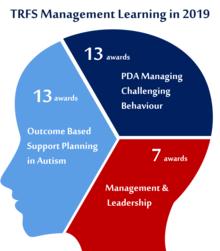 One of this year's graduates, Richard Lawrence (Team Manager from East Kilbride) talked about this award being a way of developing your own personal leadership capability alongside managers from across the country who you'd not normally meet to create a leadership community.
Caroline Shaw (Head of Complex Needs) emphasised the huge benefits for the people we support in improving their quality of life and reducing behaviours of concern through the learning and development of frontline managers. Developing practical skills in implementing Positive Behaviour Support helps to build resilience in our services and a network of skilled mediators. This year 13 managers achieved the 'PDA in the Management of Challenging Behaviour' (SQA Level 9). A further 13 candidates also achieved the 'Certificate in Outcome Based Support Planning in Autism'. This certificate is developed in line with the Scottish Government and NES training framework, 'Optimising Outcomes' ensuring our candidates are trained to the highest level as advanced autism practitioners.
The guest speakers Daniel Johnson MSP and Michael Clarkson both spoke about the importance of being part of the drive to value neurodiverse skills and talents. While Daniel Johnson talked about neurodiversity being the "next frontier" in education and social care, Michael Clarkson recognised that these qualifications represent that our staff "are doing their part".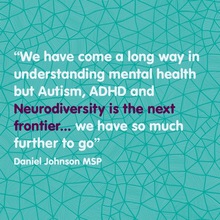 It was also great to hear from Senior Support Workers Morgan Ormsby (Penicuik) and Sandra Law (Dunfermline) who explained things they had developed with their teams to improve people's lives; from Zumba classes to better communication guidance, from teaching new skills around the DVD player to educating staff on a sensory profile.
The day was a celebration of months of work that these managers have done to invest in themselves, their staff teams and the lives of the people we support. The recognition of what we can achieve collectively was heart-warming so not a bad way to see in Valentine's Day.
#TRFSawards #InvestingInStaff #SocialCare