The shop's open at Blackford!
Friday 3 April 2020
Supported people at our Blackford Service in Renfrewshire aren't letting Covid-19 measures get them down. Working together with staff they have set up 'The Wee Blackford Shop" in the garden space selling a range of their favourite goodies. Like all shops just now hygiene and safety is a top priority and they've even gone cashless!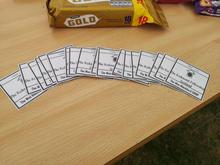 This has been a fun way to get people involved and achieve something really meaningful. Happy shopping!