Scottish Learning Disability Week at Todhill
Tuesday 19 May 2020
The people we support and staff from our Todhill Service wanted to do something special to celebrate Scottish Learning Disability Week which runs from Monday 18th May until Sunday 24th May 2020.
The theme for this year is 'My Environment - my place, my planet' and Uno the Unicorn is the mascot! The Scottish Commission for Learning Disability (SCLD) were running a competition to 'Make your own Uno' out of recycled materials. The people we support and staff were disappointed to have missed the deadline date for the competition but thought their Unicorn was too fabulous not to be shared!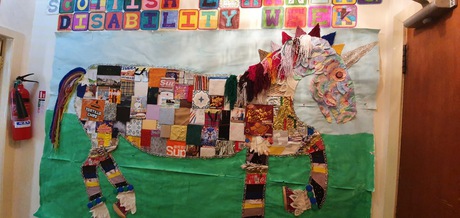 Everyone had great fun as they worked hard together to use a variety of different recycled materials to create the finished article.
Team Manager, Lynsey wanted to make sure that, even though we had missed the competition deadline date, the SCLD still got to see Todhill's very own Uno and was delighted when they sent back a certificate of achievement.