PBS Collaboration and Learning!
Wednesday 20 May 2020
Caroline Shaw, our Head of Complex Needs and leader of TRFS's award winning Positive Behaviour Support Team, welcomes today's Scottish Government's announcement on the development of a Positive Behaviour Support (PBS) Community of Practice: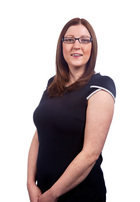 "The Scottish Government's commitment to investing in the development of a PBS Community of Practice is an exciting and welcomed milestone towards improving the quality of life for people with learning disabilities and complex needs in Scotland, including those who are autistic, or have additional support needs such as mental health difficulties or a forensic background.
By taking a strategic partnership approach and working together with family carers, health, education and those within the social care sector across Scotland, we can all come together to learn from each other and share our experiences of implementing Positive Behaviour Support in practice.
I look forward to being part of a national network which will help to shape the future of PBS in Scotland and I see the Community of Practice as a great opportunity to engage in discussions that help to promote PBS and achieve our collective goal of promoting long term change towards improving the lives of the people we support."
TRFS are Scotland's leading care sector provider of PBS and have operated a fully dedicated PBS Team since 2004. For more information about the Team and how to access the specialist support they can provide please contact: info@trfs.org.uk