Linda's Shared Lives Story
Friday 22 May 2020
Our Shared Lives Services are an alternative approach to Care and Support for adults where Carers open up their lives and homes to people who use the service. Shared Lives is a highly personalised service where the Carers focus directly on the person using the service, giving a more natural opportunity to build up a trusting and positive relationship.
We were delighted that Linda, one of our Shared Lives Carers from our Perth & Kinross Shared Lives Service wanted to share her story with us and how the recent COVID-19 pandemic has meant the way she provides support has changed for her and the person she cares for.
This is Linda and her dog Bruno who has been with us for a couple of years now. Team Manager, Lorna, told us "Linda is a delight to have as part of our Shared Lives Team and a joy to work with. I always get great feedback about Linda from the people who have used our service and their families. As Linda mentions in her story below, dogs have always been a part of her life and Bruno and her previous dog, Bella, have played an important part in our service too".
My Shared Lives Journey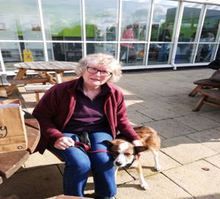 I was a PA/secretary near London for about 14 years, at the same time helping my husband to run a discotheque/lighting business. In 1988 he/we decided that the DJs were getting younger (or was that us getting older) and we really didn't want to be doing that business for the rest of our lives so we upped sticks and moved to Aberdeenshire to run a boarding kennels – we'd always loved dogs but knew very little about that sort of business. However, it worked extremely well and whilst running it we met a wide variety of customers (human and animal). I got to know a lot of "older" people and it always seemed to me that their love for animals seemed to help their relationships and also kept them active.
In 2014 I "retired" from the kennel business and moved to Blairgowrie. I spent the first couple of years enjoying my freedom from the restrictions of kennel life (24/7), but then felt that I'd like to give something back to others. A friend is a Shared Lives carer in Morayshire and she suggested that this could be something I would enjoy. Having met some of her clients, who I got on well with, I decided to give it a go and following some investigative work I found Lorna at The Richmond Fellowship Scotland - the rest is history.
I would like to feel that if I ever get to a stage where I need support, there is an organisation that can help me, where someone takes an interest in my life (past and present) and helps me do the things I would like to continue doing for as long as I am able.
I visit one of my clients one evening a week and generally she wants to watch Eastenders (her favourite) followed by River City and then whatever else comes on next. She laughs, expresses shock, horror and incredulity at some of the things that go on, what people are wearing and even the colour of their hair but all the time she can raise a smile in me.
However, every three weeks or so she likes to have her finger nails varnished. This is not something I do for myself so when I was originally presented with some nail varnish remover and 20 bottles of colour, including glitter, you can imagine my feelings. We spend a bit of time deciding what colour to paint them with me saying it's her choice and her saying it's up to me - we get there in the end.. I'm actually getting quite good at it now but, of course, with lockdown and social distancing I am unable to continue my visits. We have been keeping in touch on the phone though.
I'd done her nails just before lockdown so they needed doing a few weeks ago and her son really wasn't sure what to do. Imagine my surprise when I received a phone call to say they were outside my gate and did I want to pop out for a moment. It was a lovely afternoon so my client had been put into her wheel chair and was being taken for some much needed fresh air by her son. However, what she wanted was to show off her new nail colour. He'd done such a good job I said that I wouldn't need to do it anymore when my visits restarted - I can't repeat his comment but will leave it to your imagination!
If you would like to learn more about our Shared Lives Services please email us at info@trfs.org.uk