Adapted Active Support Training
Wednesday 24 June 2020
In June 2020, seven of our Senior Support Workers from services across Tayside spent two days working intensively with the Positive Behaviour Support Team to learn more about the Model of Active Support and develop their skills as trainers who will now be able to go on and deliver Active Support training to their staff teams across the region. This was an exciting opportunity to ensure our frontline staff continue to develop their knowledge and offer high quality support meeting the needs of the individuals we support, particularly during the Covid-19 pandemic. The training encompassed a particular focus on how increasing engagement and participation through the Active Support Model could be used to help reduce low level restrictive practices and increase quality of life.
Active Support is a person-centred approach to providing direct support. The goal of Active Support is to ensure that people with even the most complex needs have ongoing, daily support to be engaged and actively participate in a variety of life activities and opportunities of their choice.
By investing in our Senior Support Worker's knowledge and skills in delivering Active Support, we anticipate this personalised, essential training will be accessible to more staff and therefore have an impact on more supported individual's lives. This will lead to higher levels of engagement and participation, increasing people's quality of life. Dynamic decision making is vital when supporting people. Senior Support Workers delivering Active Support training within their own services allows for service specific actions to be made and met quickly in changing situations and with changing needs. Senior Support Workers will also have the flexibility of delivering Active Support training as and when required, such as after periods of staff turnover making this a truly responsive course.
Nadia Khan, Regional PBS Manager commented: "It has been extremely important for us to think outside the box to ensure we can continue to provide training and build practical skills in services to ensure quality of life continues to remain the focus across our services during the coronavirus pandemic. This two day practical training is an example of how we have adapted our input in order to provide online training by delivering live via Microsoft Teams".
Despite it being the first time that this training was delivered through a live stream and not in a classroom based setting, the Senior Support Workers worked extremely hard to digest the course material and brought their wealth of experience and practice in to delivering the training. The Behaviour Support Advisors facilitating the training had to find innovative and creative ways to deliver this practical training, ensuring the key elements of the training were not lost. Facilitators adapted exercises in such a way that it was still interactive, particularly roleplays and problem solving sessions. The Senior Support Workers spent their final training day showcasing what they had learned by delivering the training pack to the PBS Team and the rest of their cohort.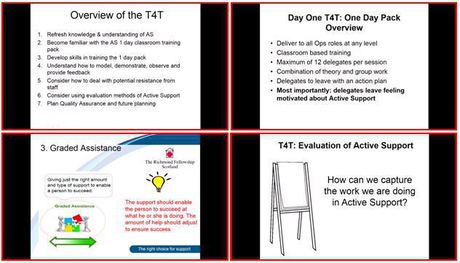 Despite the format of the training being through live stream, the candidates found the training very accessible and informative.
"Unusual circumstances having training via Microsoft Teams but managed well, slides clear & understandable, explained well"
"Despite the challenges presented working remotely and the technological issues this presented to some participants including myself the Behaviour Support Advisor managed to keep everyone focused and involved."
"Resources and tools gave you all the information you needed and were well laid out and easy to use"
They now feel confident in delivering the training to their staff teams and taking Active Support forward in their service.
"I can use this to make a positive impact on our service user and my staff team"
"Myself and my colleague will be working together on our Action Plan to training, incorporate and review the implementation of Active Support in our service"
The team did so well that all seven Senior Support Workers are now Active Support trainers. Over the next 12 months this group of new trainers will embed their knowledge throughout their services by delivering Active Support Training to frontline staff across the region ensuring all staff having this invaluable training.
The PBS Team are excited about the future for Active Support and are currently working on developing new online Active Support E:learning that will be accessible to all via the Hive training site. This will further enhance the scope of Active Support within our organisation.
The Positive Behaviour Support Team and the organisation are committed to investing in our staff. There are now 578 members of staff who have completed Active Support training across the organisation. After the addition of our seven new trainers we now have 19 Active Support trainers across the organisation!
We look forward to the roll out of Active Support training across Tayside and the prospects this will bring to increasing the quality of life of the individuals we support.