A Birthday Celebration!
Tuesday 28 July 2020
The 17th of July marked the first 'birthday' of our Achbuie service in Alford. This year has been full of struggles and uncertainties for all of the people we support and staff, so a party to mark the occasion was called for.
Weeks of planning and preparation by Senior Support Worker Angela paid off, for what was a fabulous day enjoyed by all; including family and friends of the residents (socially distanced of course). Even the weather was on point - it was a rare sunny and warm Scottish summer day!
The service was decorated to the nines with so enough balloons to fill the sleepover room! There was a gorgeous cake and of course a BBQ which everyone enjoyed while making full use of the brand new garden furniture. Team Manager Steven donned his chef's hat and was put in charge of the BBQ, to great success as everyone loved the food; including resident Michael who is a vegetarian.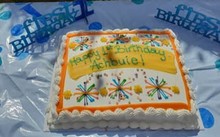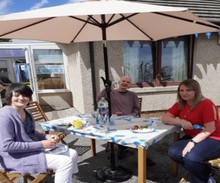 Very talented staff member Hayley and her son Joel were on hand to play some live music to add to the party feel!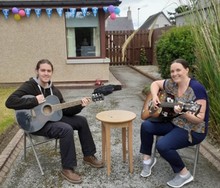 When asked what the best part of the day was, staff said it was the smiles on the faces of the people we support.