Amy's Cooking Up a Storm!
Friday 28 August 2020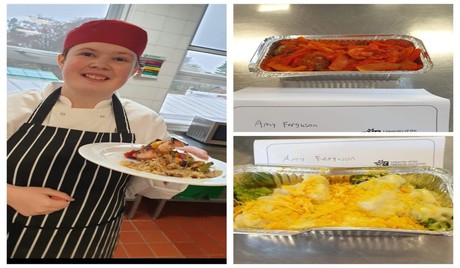 When Amy decided she would like to move from Dunfermline to Perth, Shared Lives Carer Rose and her family were identified as being a good match for her and her support needs. She moved in with Rose in 2015 and since that time she has continued to be part of Rose's family and has grown into a confident young lady.
Amy and Rose worked well together and got to know each other pretty quickly. Rose introduced Amy to the local community and made sure Amy knew how to access her local health centres, libraries, groups and College.
Three years ago Amy embraced a new adventure at Perth College. She enrolled in the 'Life Skills' course which she graduated from with flying colours. Amy sat down with Rose to discuss what her next plans would be and after lengthy discussion and research, Amy decided that hospitality would be the perfect path for her.
Amy did have some anxieties though! The course she had chosen did not have as much student support as her last course had offered her however, after working with Rose to build her confidence, she felt she was then able to apply for her chosen course. After completing her first year in hospitality, we are proud to say that Amy has been accepted into the second year of her chosen course.
Shared Lives is an alternative and highly person-centred approach to care and support for adults. People supported by the service are introduced to an approved carer (referred to as a shared lives carer) who best meets their needs. If you would like further information on our Shared Lives Services please email info@trfs.org.uk