Garden re-design in Glenrothes!
Monday 14 September 2020
Alexis gets a lot of enjoyment and pleasure out of her garden and it's a huge part of her life.
She enjoys gardening and spending many afternoons outdoors or shopping for plants and ornate garden accessories so decided to spend money on improving her garden.
Alexis had a range of plants and flowers but her garden lacked any order and look cluttered which she raised wither her keyworker. Together they started to reorganise her garden so it was easier to manage and to give her a space to sit with friends.
It was agreed to contact a local landscape gardener and together they planned a new garden design.
Alexis had a little help from her SSW, Megan, to clear away old garden equipment, broken plant pots and other bits and pieces to make space for the design.
The landscape gardener took over and within a few days new raised beds built from sleepers, a green house, a new arbour seating area and a chipped pathway were in place. Alexis is delighted with her new garden area and is completing the garden transformation with planting in her new raised beds.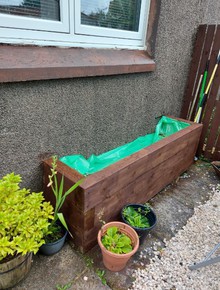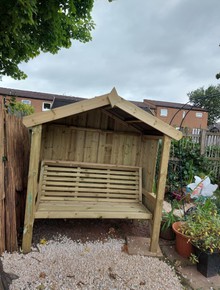 During the lockdown Alexis had limited opportunities to see her friends. Now that restrictions are easing for gatherings, she hopes to invite her friends around soon to enjoy her new garden.