Our Autism Strategy for 2020-2023
Tuesday 29 September 2020
We are excited to launch our latest Autism Strategy for the period of 2020-2023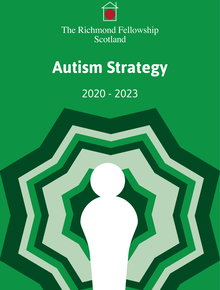 This is now the third Autism Strategy we have published and they have proved vital to ensuring that we are developing and providing the highest quality support available in Scotland for Autistic individuals and their family carers.
In our last strategy, we focused on establishing our system of training, our network of Autism Resource Workers, and broadening the support we offer through programmes like 'Positive Pathways'.
For the next 3 years we'll be expanded to focus on 3 key areas;
Increased participation of the people we support in all aspects of their care
Broadening our usage of assistive and adaptive technology to increase independence
Developing environments that are suited for the sensory and communication needs of the people we support.
"We are entering into a new phase of our understanding of what it means to be autistic, one that emphasises the person and not their perceived flaws. I believe that by focusing on adapting the world around the autistic person as opposed to adapting the person themselves we can achieve great things."
Callum McCrosson
National Autism Advisor
We'll be highlighting how we are achieving our goals through articles, videos, and podcasts in the coming years.
You can download a copy of our Autism Strategy here.
If you would like to know more then please email us - autism@trfs.org.uk