Pitairlie's Garden Project
Thursday 1 October 2020
Lockdown restrictions challenged our staff, at our Pitairlie Service in Dundee, to think of different ways to get the residents to positively engage in support. They knew that keeping active and busy would help the individuals to cope with these unprecedented times.
The staff thought of many ways to keep things as normal as possible for everyone including 'chair-obic' exercises with individuals who were missing physio; bought sporting equipment for the people missing football, martial arts and tennis; cooking lessons for those who missed restaurants and also supported them to go on walks and take regular exercise.
However, they were still looking for something different and new to take minds off of lockdown - however briefly! One of the people we support was chatting to a staff member about hanging baskets and with both of them having a passion for gardening they decided to make baskets to brighten up the service. With support from staff, he picked some lovely flowers and once planted, took care to water each of them every day and even if he was having a bad day, he still got up and watered the baskets. Everyone commented on how beautiful they were and as a result, our wonderful support practitioners got together and, using their own skills and knowledge, set up the 'Pitairlie Garden Project'.
The staff encouraged the residents to pick colours to paint the old flower beds, in the garden, that were to be turned into a vegetable patch. Individuals were supported to go to hardware stores (when they re-opened) and given colour charts for inspiration. Once picked, the staff encouraged them to help paint the old boxes. At first, most were reluctant and unsure of the new project but through positive encouragement they soon got involved.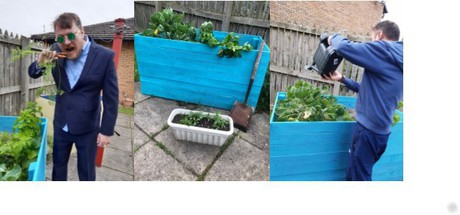 One of our staff had already started growing seedlings in her own garden and brought these in for the residents to plant and watch grow. One of the individuals we support was having a particularly hard time during lockdown and planting sunflowers (and watching his grow to be the biggest) was one of the most positive and rewarding engagements with staff he had.
The Pitairlie Garden Project has turned out to be a huge success and there are already talks going on of how it can be expanded next year. Those residents who were wary of the project have already requested different vegetables to grow next year.
Some of the vegetables that were planted have already been enjoyed at the Pitairlie Sunday Lunch and there are sprouts, leeks and potatoes still growing to be used for Christmas dinner.