Friends in high places!
Thursday 8 October 2020
Our resident artist Arthur has friends in high places!
When the Queen heard that Arthur had been selling his paintings to raise money for the NHS during COVID-19, she asked one of her staff to send him a letter on her behalf acknowledging his amazing skill, wonderful artwork and his generosity.
Arthur was very excited to receive his letter yesterday and couldn't wait to share it with us all.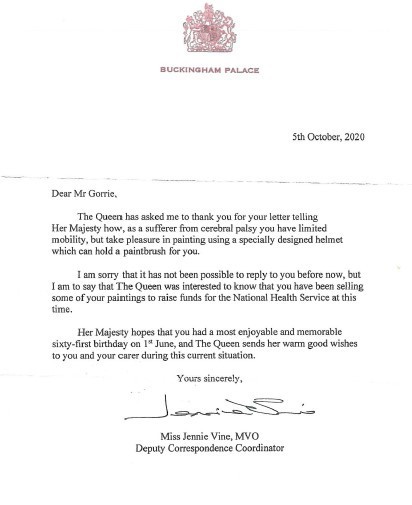 Arthur was hoping to raise more money for the charities that are important to him by selling his paintings in his local church but unfortunately that is not possible at the moment. Staff have supported Arthur to set up a Just Giving Page which means there is a unique opportunity to purchase one of these original pieces of artwork.
Arthur's page is called 'Arthur Paint 20 pictures with my head'. If you would like to purchase one of his paintings please contact Amanda on 01738 860240. You can also visit his page just to make a donation.
Here is Arthur proudly showing off his letter!