Kevin's Healthy Choices!
Tuesday 27 October 2020
Kevin at our Woodside Service has been learning to cook meals from scratch to help him improve his physical health and to learn new skills.
This week Kevin decided he would like to make sausage casserole. With the support of Support Worker, Louise, he wrote down his ingredients and headed out to the local shops to buy everything he needed.
When Kevin was ready, he prepared his kitchen space with Support Worker Andrew and looked out all of his ingredients. He had frozen sausages, carrots, onions, mushrooms, a red pepper and a sachet of sausage casserole sauce.
With support, Kevin then started to cook his delicious meal.
After everything was prepared and in the oven, Kevin made sure his kitchen was clean and tidy, ready to sit down to his dinner when it was cooked.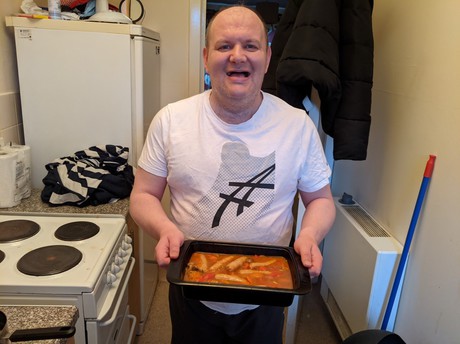 Kevin said – "I really liked the mushrooms and the sausage had great flavour".