Paul's Day Out!
Wednesday 4 November 2020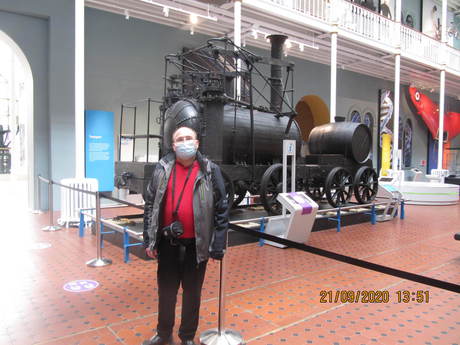 With COVID-19 restrictions loosening, Paul decided to make the most of his annual leave from work by going further than has been possible for him in months - he kick started the week with a day out in Edinburgh!
Paul's support team assisted him in planning a day centered around his interests. Paul is a man with a passion for trains, engineering and absorbing information so a train ride and afternoon in the National Museum of Scotland seemed like a perfect fit. Paul helped in planning the trip by suggesting what aspects of the trip he would enjoy the most in order to make it a great time. He then booked the slots and planned how he would get there!
On the 21st of September Paul and his support staff made their way to Markinch Railway Station via taxi. Paul has a deep interest in trains and has loved them since he was young. Being back at a railway station and taking in the sights and sounds of the station was so refreshing for Paul after the monotony of lockdown.
Paul enjoyed the scenery and relaxed by listening to music en route to Waverly Station. On arriving Paul navigated to the National Museum where he treated himself and staff to lunch and a coffee. After filling up Paul went through all of the exhibits. Going from the ground floor to the top floor there were many opportunities for photos, and Paul had a number taken of himself in front of exhibits he found interesting. Paul enjoyed the animal and engineering sections in particular, slowing down and taking in all the sights and information.
After doing the rounds of the museum Paul wanted to return to the train station and grab another coffee before heading home. Paul continued to make the most of the visit to Edinburgh, enjoying the impressive architecture of the city, taking photos of sights he was drawn to. It was then time to go home! Everyone waited in the grand waiting area of Waverley Station enjoying our coffees watching the people and pigeons go while waiting on the train to arrive.
Paul thoroughly enjoyed the day and was exhausted at the end of it. He expressed his gratitude regularly for the experience, the day left him invigorated and hopeful towards future excursions. Paul is already planning his next train ride, this time to the V&A Dundee museum for a different experience.