Making Liam's Lockdown Year!
Thursday 29 April 2021
Lockdown has been hard for us all, change in our lifestyles and adapting to new ways of living.
This is Liam's lockdown story!
Liam is a dedicated Dundee United supporter and, without a doubt, their number one fan. Before lockdown, staff at our Albany Service would support Liam to watch Dundee United reserve team, following them around the local area, travelling to St Andrews, Forfar, Montrose and Dundee. Together, we would celebrate the wins and not speak too much of the losses!
With Lockdown, football had stopped as well as travelling. Liam was devastated that he was not able to watch his beloved Dundee United and the feeling of belonging that Liam was achieving had dwindled, as he was no longer interacting with players and other supporters.
To lift Liam's spirits and to remind him that the Dundee United players were still thinking of him, support practitioner Hayley contacted a friend of a friend who knew Liam's hero and top Dundee United striker 'Lawrence Shankland'. Hayley arranged for Lawrence to sign a Dundee United strip to give to Liam.
The day had arrived where we were to present this to Liam. Liam knew nothing of this which made this more exciting! Hayley gave Liam the signed strip along with the photo of Lawrence holding the strip and Liam burst with excitement and happiness! Liam was ecstatic and could not believe that Hayley had done this, also that his hero Lawrence was still thinking of him.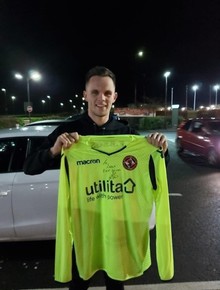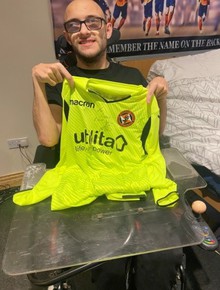 Liam said "This has made me so happy, it has made my year. Thank you so much for arranging this. When I am feeling low, I will look at my football strip and remember that I will get back to watching my team play and that I can feel part of the Dundee United community once again".