Emma's delighted to get back to a routine!
Thursday 10 June 2021
Emma has been supported by TRFS for nine years and loves living her in flat at Torbrex. Emma is a very caring, fun loving person who loves being outdoors and likes to make the most of her day and spend time out of her flat.
Emma has always enjoyed going out and exploring new places, with a very busy routine pre coronavirus. Throughout lockdown and restrictions, Emma adapted very well and enjoyed baking, crafting and going for walks in the local area.
Now that restrictions are lifting, Emma and her team are introducing Emma back into the community and planning activities/day trips that Emma has missed so much for the last year.
Recently, Emma was supported to Blair Drummond Safari Park where she thoroughly enjoyed going around the reserves to see the lions, tigers and deer joking to staff saying "better no come in my car, you keep an eye on them"! Emma specifically enjoyed going to the petting farm and watching the pigs and horses. Initially, Emma wasn't keen on feeding the animals and asked the staff to do it but she quickly gained confidence after observing staff and began petting the horse saying "you see, aww look" with a big smile on her face. Before leaving, Emma was very brave and went to see the dinosaurs. Emma found them hilarious and was laughing hysterically throughout.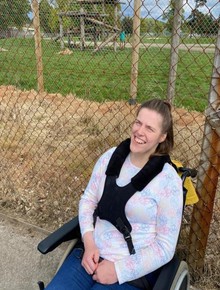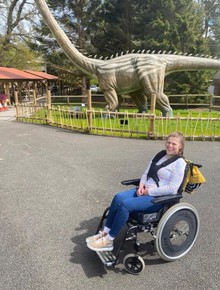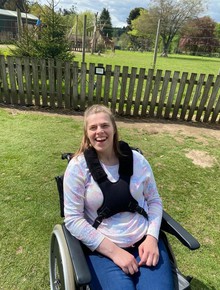 Emma is doing extremely well in being supported back into her routine in the community and is looking forward to participating in more activities.