Scott's most wonderful time of the year!
Thursday 23 December 2021
Scott from our Wedderburn Service loves this time of year! He had a couple of things he wanted to score of his list before Christmas so, of course, our staff wanted to make sure he was supported to achieve the things that mattered the most to him!
Firstly, Scott wanted to go on a short break so Senior Support Worker, Margaret found a lovely lodge in Lundin Links, Fife that she thought would be ideal! When Margaret showed Scott, he loved the look of the place and chose which room he wanted and what sofa he was going to sit on. He was very much looking forward to his visit.
When the time came for Scott's short break, he was supported to the lodge by Support Practitioner, Laura. When they arrived and Scott first saw his home for the next few days, he had a big smile on his face and both he and Laura were blown away with the facilities it had. The lodge is run by the Homelands Trust and they were fantastic. Scott made himself at home and looked around for a while before relaxing on the sofa with his radio.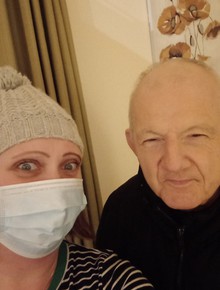 Scott went to Leven on a day trip and visited his favourite bakers, Stuarts, for a cup of tea. One of the other things on Scott's list to do is to meet as many Santa's as he can before Christmas and he couldn't believe it when he seen that Santa was also visiting Leven! Scott's face lit up and he started shouting "it's Santa". Scott couldn't wait to meet him and have his photograph with him, the elves and the Grinch!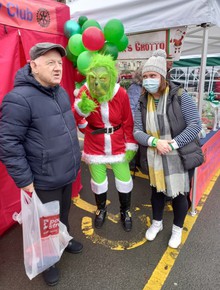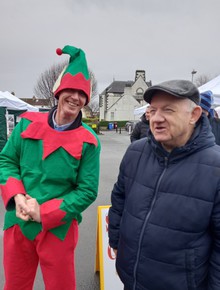 Scott wanted to go somewhere nice for dinner that night and had asked a few of the locals for recommendations. The overall consensus was that Scott should eat at a restaurant called The Crusoe! Laura called to book a table and they went for their dinner that evening. Scott was treated like a king and the staff were so friendly.
On the Sunday Scott visited a craft cafe called the Aurrie were he painted some rocks, had a cup of tea and chatted away with the locals. This was followed by a walk along the beach. Scott loves the bus so he and Laura then went on the bus to St Andrews and had dinner. Scott returned back to the lodge tired but happy.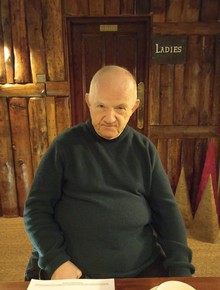 Before leaving they went to the reception at Homelands and Scott said thank you to the staff for a lovely stay and assured them that he would be back at some point in the future!
Scott could hardly believe it when the very next week Santa made a special visit at his home to see him!