Fun for Craig! Respite for Mum & Dad!
Tuesday 8 March 2022
A new service was set up in March 2021 to provide 1:1 support to Craig for personal care in the mornings and evenings. Included in this package of care, the family receive 28 days of respite care within the year. This means Mum and Dad can take a break from their caring role to look after themselves, helping to prevent them from becoming exhausted and run down!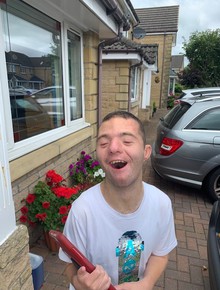 Senior Support Worker, Laura, had the pleasure of being involved in the first and second periods of respite care. She said that Craig is an absolute joy to be around and is always smiling. They had a great time while Mum and Dad enjoyed some free time together.
For the first period of respite, Laura was welcomed into the family home to spend a long weekend with Craig while Mum and Dad went on a trip away! Mum and Dad told Laura to treat their house like her own home and she felt very comfortable which meant she could concentrate on planning a fun filled weekend for Craig to enjoy.
Prior to the weekend, Laura spent some time chatting to Mum and Dad and they came up with a list of Craig's favourite activities and they also provided essential information in relation to Craig's care such as how to support him with PEG (Percutaneous Endoscopic Gastrostomy) feeding! Laura completed the relevant risk assessments to ensure that Craig would be safe while having as much fun as possible.
Craig was quite happy to wave goodbye to Mum and Dad and, with the use of Makaton, Laura prepared Craig for his weekend! Craig loves the water and ducks so he and Laura took a trip to Pittencrieff Park (known locally as the Glen) in Dunfermline and then Craig enjoyed some time in his own hot tub in his back garden.
For the second period of respite, Laura took Craig to her family caravan in Lochearnhead for a fun trip away from home! Prior to the respite, Laura had taken Craig on a day trip to the caravan to make sure he was going to like it and to let him get familiar with his surroundings. Laura completed all of the necessary risk assessments and spoke to Mum and Dad about what Craig would be doing while he was away! Craig's Mum and Dad got him prepared for the trip by packing his clothes and all of his favourite things and Craig got very excited while watching all of his things getting packed into the car!
When they were nearly at the caravan Craig recognised the route and was very eager to get there! The weather was fantastic and Craig enjoyed time spent down at the loch feeding the ducks and had a great time when they took a trip to MacRosty Park in Crieff. While Craig was away, Laura sent photographs of him to Mum and Dad and let them know each night how the day had went! This meant that they were able to relax knowing that Craig was safe and having a great time!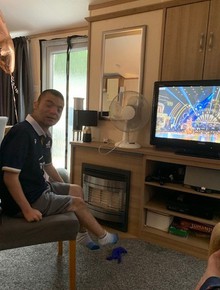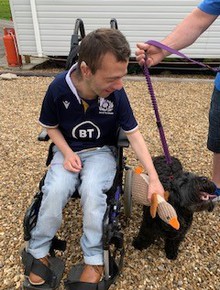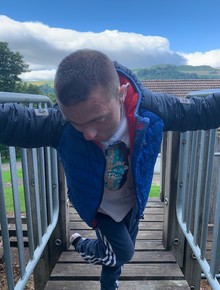 When it was time to leave, Craig had a great time laughing at Laura trying to fit everything in her car! Although he had a great time in the caravan, he was looking forward to getting home to see his Mum and Dad and when he was nearly home he again recognised his route and got very excited the closer home became!
Unfortunately for the third period of respite, Laura was off work ill! Team Manager, Jackie, gave Craig's Mum and Dad the bad news that the planned respite may have to be cancelled. Obviously this was very concerning for Mum and Dad as they had booked a trip away which they were very much looking forward too, very much needed and had spent a lot of money on! Jackie had to come up with a resolution fast!
Luckily, the amazing housing support staff team from Craighall Court stepped in! It had to be arranged very quickly for the staff had to shadow Craig's regular staff and also his Mum and Dad for a short period to allow them to become familiar with Craig's needs and also to allow Craig the time to familiarise himself with the new faces! The staff also took part in a number of Team's calls with Craig's Mum and Dad to ensure they had all the relevant information they needed to keep him safe. This also helped Craig's Mum and Dad to build confidence with the staff and meant they could look forward to their time away!
Staff supported Craig within his own home and he enjoyed trips on the bus and had a great day out at the Cinema!
Mum and Dad said: -
"Contracting a new respite organisation is scary; we are trusting a new organisation with caring for the most precious person in our life, who needs constant care. But we also know that not doing it isn't an option, as respite from caring is crucial to enable us to continue to care for Craig, and keep us sane.
The professionalism shown by The Richmond Fellowship, led by Laura, gave us confidence that at home respite would be safe. They took time to understand not only Craig's care needs, but his everyday routine, what makes him happy, and also what he doesn't like. The staff actively engaged with Craig, ensuring that his day was filled with fun - it was like he was on holiday too. They always have new staff shadow other staff who know Craig, and keep in regular contact with each other.
During respite they provide us with daily updates on what he's done, and photos that always make us smile. This really makes a difference to our ability to relax during respite breaks knowing that Craig is happy.
We have engaged with a number of care companies in the last 21 years, and the difference with The Richmond Fellowship is that they really care about Craig and us as his parents and carers."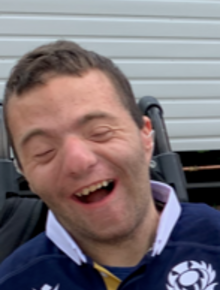 If you would like to know more about our services and the support we provide please email info@trfs.org.uk