There is no stopping Gemma!
Monday 4 April 2022
We support people to achieve the things that matter to them. Our staff are skilled and experienced in adapting support for people as things in their life or their needs change. Staff at our Lumphinnans service supported Gemma to regain her confidence after experiencing an accident at her local bowling club!
This is Gemma from our Lumphinnans Service who recently had a fall while playing bowling at her weekly bowling league she attends with her other friends within The Richmond Fellowship Scotland.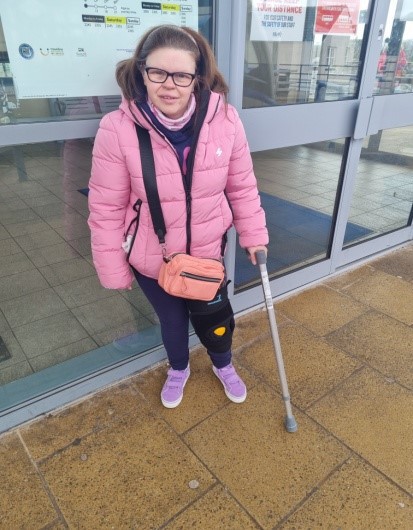 Gemma's knee popped out of place and she unfortunately had to wear a knee splint and use a walking aid. This knocked Gemma's confidence as she felt embarrassed to be seen out in public whilst having to wear/use the aids. This made Gemma very reluctant to go out for a week or so, however whilst Gemma was in the house staff worked with her to regain her confidence.
Staff reassured Gemma that she had absolutely nothing to worry about and explained to her that there are lots of people in the world that may need to use walking aids to get on with daily tasks and activities. Staff encouraged Gemma to watch different clips on YouTube of people with additional needs that had taken falls and that are currently needing extra help for the time being whilst they recover from injuries just like Gemma. This helped Gemma a lot with her confidence as she started to feel that she would not be judged or singled out.
Staff also assisted Gemma with walking around her garden and along the street with her knee splint on and using her walking stick to gain confidence before going on public transport. Gemma has Williams Syndrome and one symptom of that is that she suffers from anxiety, therefore staff encouraged Gemma to use breathing techniques if she happened to feel anxious. Gemma learned that by closing her eyes and breathing in for 5 and out for 5, it made her feel calmer and it took her to her happy place. Along with the breathing techniques staff made up a small bag of fidgets for Gemma to use and play with whilst sitting on buses or anytime she felt needed them.
The time came when Gemma decided she was ready to have a day out. Gemma asked staff to support her to Livingstone for the day. She had decided that she would like to go for a meal and to watch a movie at the Cinema. Gemma coped extremely well from leaving the house and getting two buses to Livingstone, going for a lovely meal and to watch Sing 2. Gemma got anxious on a number of occasions however using the techniques that she had practised with staff worked really well and her anxiety didn't last very long.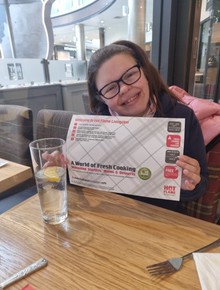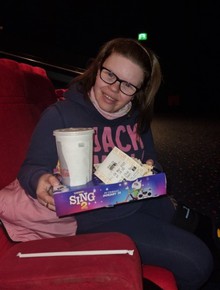 Gemma thanked her staff team for the help, persistence and patience they showed through what was a difficult time for her, and stated that she will not let this put her off going back to her weekly bowling league. Gemma now has a physiotherapist and has exercises to complete daily. She is well on the mend to recovery and she is looking forward to attending all her future groups with her friends again!