Respite for everyone! - Reece's story!
Tuesday 5 April 2022
Taking time away from a caring role is hugely important and beneficial to those who are caring for a loved one and also for the person receiving the care.
We supported Reece for the weekend while his mum and dad took some time out for themselves! Mr & Mrs Murphy and Reece's staff team tell us below how much everyone enjoyed their weekend and why it was
Respite for Mum and Dad
"We arranged a short break to a cottage in Aberfeldy from 28th January to Monday 31st January. We were initially apprehensive about it as we were leaving Reece for the first time overnight with his Richmond staff. We had no way of knowing how he would handle us being away, it was his first time with TRFS overnight. In addition to this, prior to us going, our internet was down which can be a BIG problem for Reece. For 2 days before we left, he had the use of either my or his dad's phone but we didn't know what he was going to do with us not there. Luckily, staff allowed him to watch his cartoons on their phones under supervision. The Wi-Fi luckily came back on the Saturday.
We called the staff on duty on the Friday night and the Saturday afternoon. All reports were good and Reece had been happy and settled. He was engaging well with staff and carrying out his routine without any issues. We were reassured that Reece was fine so we agreed not to phone on the Sunday. Staff would call if there was any issues.
Our time away allowed us to have a break from caring for Reece. It allowed us to rest and recharge our batteries. We visited Pitlochry on the Saturday for lunch and we spent time relaxing in the sauna and hot tub at the property".
Karen and Alex Murphy
Staff Team - A Fun Weekend for Reece!
"The weekend with Reece was fantastic! Although it was his first period of respite with us, he never showed any sign of distress or even looked for mum and dad! On the Saturday we took a walk down to the equestrian centre. Initially Reece was hesitant to touch the horses but after building up his confidence and courage, he enjoyed reaching out to give them a pat on the head!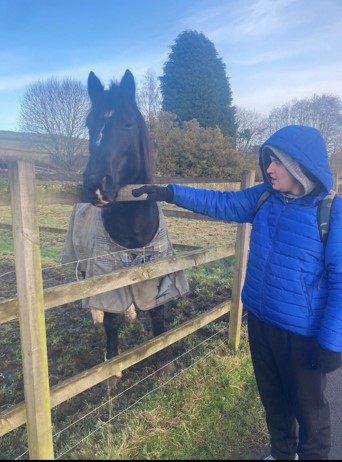 After we got home, he was relaxed and wasn't concerned that mum and dad were away! Mum and dad had been in touch in the afternoon and were pleased to hear that he was having a good time and was very settled. He had a nice dinner in the evening and the slept soundly the whole night!
On Sunday, Reece visited his Grans house. Reece handled the change in his environment amazingly and enjoyed his chocolate treat from his Gran. After visiting Gran, we took a slow walk home jumping in the puddles which is one of Reece's favourite things to do! He loves water and the sensory aspect of it. Reece was very vocal and could be heard counting 'One, two, three JUMP!'. It was the first time we had heard him to counting to three.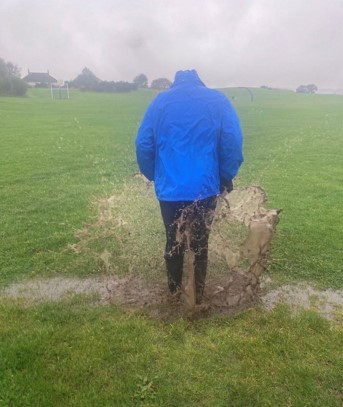 On Monday Reece was so excited when mum and dad came back with a present for him - Percy the Pirate puppet!"
If you would like to know more about any of our support services please email info@trfs.org.uk