A day in the life of Support Practitioner, Adrian!
Tuesday 12 July 2022
The people we support are unique with their own personal experiences, needs and hopes for the future. At TRFS, we support people to live as independently as possible and to have a fulfilling and meaningful life. Our dedicated staff are committed to providing the best personalised supports that listen to what people want and help them achieve the things that matter to them.
Although no two days are exactly the same, Support Practitioner Adrian from our Nichollfield Service wanted to share what a typical day looks like for him!
A Day in the Life of Support Practitioner, Adrian!
"I work at our Nichollfield service in a house of multiple occupancy (HMO) supporting a total of 8 people. I work as part of a team delivering daily personal care and social support.
On a typical day I will start my shift at 7:45am; this is the "early" shift. I have my share of responsibility for supporting the individuals of Nichollfield to wake up, bathe and have meals.
My shift starts with a handover from the nightshift staff who will pass over any useful and important information regarding each of the supported individuals.
I will communicate with my team and we will make a basic plan of who will do what on the shift. We also check together the communication book for any updates and the diary for any additional tasks or appointments that day.
I first of all start with waking up one supported individual at a time. Support is delivered in line with the step-by-step instructions which are detailed and contained within each person's support plan, ensuring respect and dignity at all times.
I also support with medication which I dispense and administer. This again will be detailed within the person's support plan and all administration of medication is carried out following company policy and protocols.
After this I will support to prepare and serve breakfast. Supported individuals will be included through using Active Support. This enables them to continue to use their own skills or learn new skills which will promote their confidence and independence. Each supported individual has their own unique dietary requirements which have input from healthcare professionals such as speech and language therapy (S.A.L.T). I will ensure and encourage supported people to make informed choices regarding their meals.
After supporting with personal care in the morning I will help plan fun activities and outings for example going out for food, shopping, a walk and cinema or a bigger trip such as going to Loch Lomond. The people we support should have the same opportunities as everyone else and they should feel included and active within their own community. I support them to do this in different ways such as; supporting to day centres, coffee mornings, to the library or to the hairdressers.
Depending on someone's communication needs, there are a range of different ways I can help plan fun activities such as verbally telling the person, showing pictures of the place from a iPad/tablet and for bigger outings (including holidays) I will create social stories using Boardmaker ensuring the supported individual is included at each stage.
I then prepare the handover for the staff who will come in on the next shift! Although running notes are recorded for each person, the handover provides a detailed overview of how the day went for each and every individual and highlights any concerns or issues which need particular attention.
After a busy, enjoyable and very rewarding day, it is then time for me to say my goodbye's and head off home!"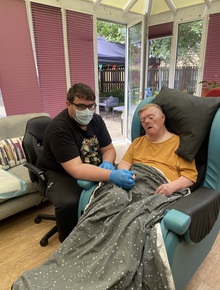 If you would like more information on working for TRFS, please email info@trfs,org.uk.
View our current vacancies by visiting the careers section here