There's no stopping confident Beth!
Friday 22 July 2022
We develop and deliver the best personal supports that listen to what people want and help them to achieve the things that are important to them. Beth is supported by staff in our Inverness services and they have been helping her to increase her confidence which has led to her being much more independent!
Beth wanted to share with us how she has been able to live life to the full after becoming more confident over the past six months!
My story of the last 6 months.......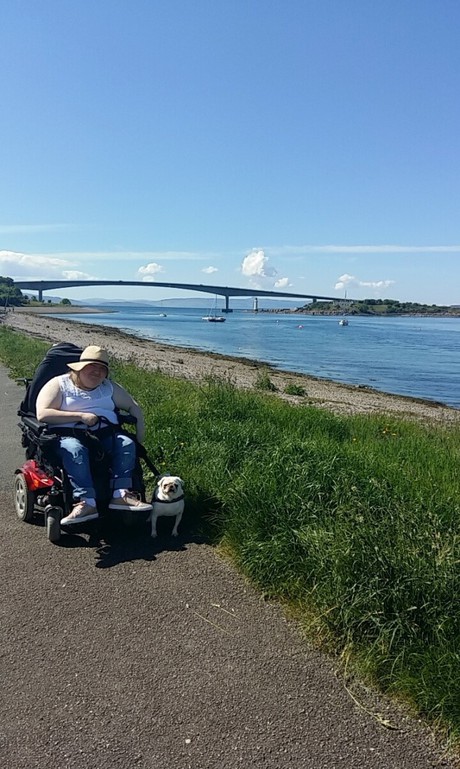 "I have had a busy 6 months where I have grown in confidence with the help and support of my staff team who are quite the crazy bunch!
I started a college course called step into care in January and it lasted 18 weeks. I was able to complete my tasks on time and passed all my assessments.
I have started going into Aldi's myself on shopping days and have been able to approach the shop staff if I can't reach something or find something. I used to be too shy to do this but my staff team encouraged me to do this when they were shopping with me. They would step back and get me to do the asking!
I have started going into the vet on my own with my pug Beau – the staff have helped me build up to this by coming with me and getting me to speak to the vet and now I am able to do all of this myself.
My staff keep calling me "Beau"" and my little dog "Beth" It is funny when they say "Beth stop licking my leg". Honestly it is Beau who licks them!
I have a busy social life where I visit my friend Gavin sometimes or he comes to mine either for a drink or for dinner. I go out with my friends often and spend a few hours a day with them. I have a volunteer job at Blythswood on a Thursday for a few hours a day. When I'm there I hang around with different kinds of people, I've been able to make new friends. My staff team helped me with getting a volunteer placement and have built up the time I spend there and I love it!
I am going on holiday to a big house called the Walled Garden in Walworth which is about an hour or so from York in September. The exciting bit is that my Dad and my sister only stay 10 minutes away and I will be able to see them and my nephew Coby who will be 2 years old in August. The staff team and I looked for a long time to find suitable accommodation on the internet so that my friends Gavin, Alan and Robert could also come and enjoy a holiday. We have plans to go to York and Kynren which is an outdoor show which is about England through the years. There are horses and jousting and I am so looking forward to it. One of the best parts is that I can take my little dog Beau and his friend Benji.
I used to be very shy and still can be at times but the "Beth" who moved into her house almost 3 years ago is very different now. The staff that have supported me and support me now have looked for ways to build up my confidence and getting me talking for myself and now I don't stop talking!"
If you would like to find out more about our services please email info@trfs.org.uk.