Living Wage Accreditation – fair work and pay commitment!
Thursday 17 November 2022
We are proud to announce that The Richmond Fellowship Scotland has become an accredited living wage employer.
The real Living Wage is the only UK wage rate calculated according to the costs of living. It is a voluntary choice by employers that recognise the value and skills of their workforce and who are committed to fair pay. The UK Living Wage is currently £10.90 per hour; the same as our standard hourly rate for Support Practitioners.
Our Chief Executive Officer, Austen Smyth explains;
"We are pleased to evidence our commitment to fair work and paying the Living Wage. We recognise the cost of living crisis and responded by increasing our hourly rate for Support Practitioners to £10.90 in October.
We have a long history of meeting and / or exceeding the real living wage. We are fortunate in Scotland to have a Government committed to fair work. However, there is more to do and this requires Government, funders and employers to work together to recognise the value of social care in a civilised Scottish society."
Scottish Government Minister for Just Transition, Employment and Fair Work, Richard Lochhead has highlighted the significance of The Richmond Fellowship Scotland's accreditation.
"Fair work is at the heart of the Scottish Government's approach to employment. Paying the real Living Wage helps tackle and address inequalities and maximises the opportunities to fairly reward workers and develop a healthy, diverse and inclusive workforce.
"I am pleased to hear The Richmond Fellowship Scotland has announced its Living Wage Accreditation during Living Wage Week, and it's great to hear that it has become the largest Living Wage accredited Social Care organisation in Scotland. The Richmond Fellowship Scotland joins over 2,900 Accredited Living Wage Employers in Scotland demonstrating a real commitment to their workers by paying the real Living Wage."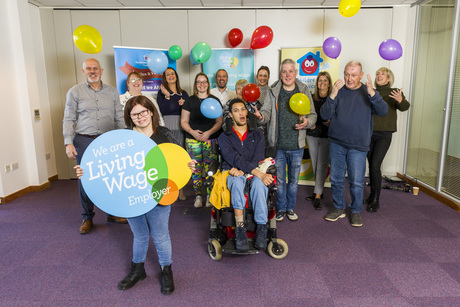 We are particularly pleased to announce our accreditation during Living Wage Week. Helping us to mark the occasion in style were Gemma, David, Marlon and James along with staff members Jamie, Carolyn, Graham, Aileen and Lisa, and Meg from our unique TRFS Fun Team. Also, thanks to Christine McCaig and Rachel Morrison-McCormick from Living Wage Scotland for being part of the celebration.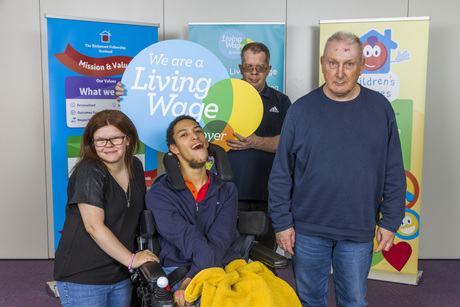 Finally, thank you to all our wonderful staff for the skills, values and commitment you demonstrate every day!