Burns Day Fun in Dundee!
Thursday 26 January 2023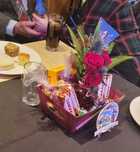 Supported people and staff from Dundee, and surrounding services, met at the Landmark Hotel to celebrate Burns Day on Wednesday 25th January. It was the first time that they had managed to get together since before the pandemic and everyone had a fantastic time! It was a great turn out with around 120 people attending, wearing tartan or something Scottish in keeping with the theme of the day.
Before the event, the Fun Team had sent out craft packs to everyone with ideas of how to make some Burns Day themed decorations and every service were encouraged to make their own table centre pieces, with the promise of a prize for the best idea! Fun Achiever, Donna, was amazed at the work and effort that everyone had put into making their centre pieces and she found it very difficult to pick a winner! After much deliberation, Donna chose the centre piece that the Angus Service had made. Although everyone's displays were amazing, Donna had chosen that one because they had made lots of individual items and, in particular, loved their pom pom haggises!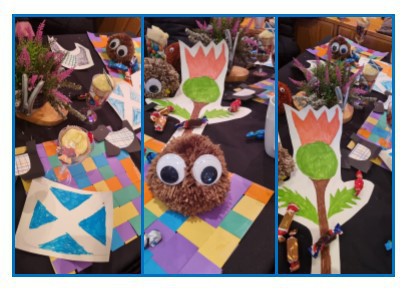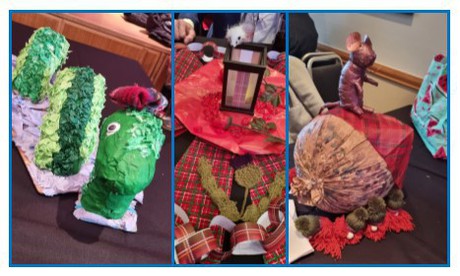 After enjoying a lovely buffet, everyone took to the dance floor and danced the afternoon away with a mix of great music from the fabulous DJ's from Tayside Events, including some ceilidh music and well known Scottish hits! A few people read some poems that they written themselves and the afternoon rounded off with a good old sing song of Auld Lang Syne.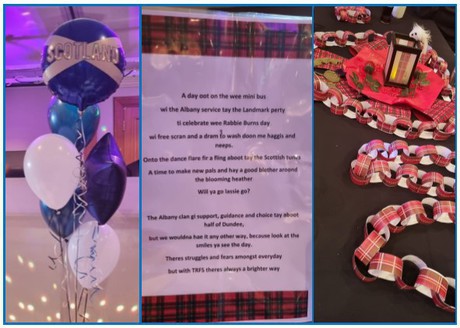 If you would like more information about our Fun Team, you can email Fun Achievers, Meg and Donna on funteam@trfs.org.uk