International Safety Award
Monday 13 May 2013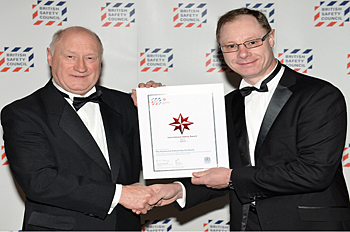 The Richmond fellowship Scotland has recently been presented an International Safety Award for their health and safety achievements during 2012/13. Tony Priest (Health and Safety Advisor) received the award at the British Safety Council gala dinner held at the Grosvenor House Hotel in London. This award is testimony to the hard work and commitment from all members of staff throughout the organisation.
Lynda Armstrong OBE, Chair of the Trustees of the British Safety Council, congratulated The Richmond Fellowship Scotland on their success in winning the Award with merit. The British Safety Council commends TRFS on their achievement. The award is in recognition of their commitment and effort to keep their employees and workplaces free of injury and ill health.
Our warmest congratulations.