PDA Awards Ceremony - A Day Of Celebration
Monday 3 June 2013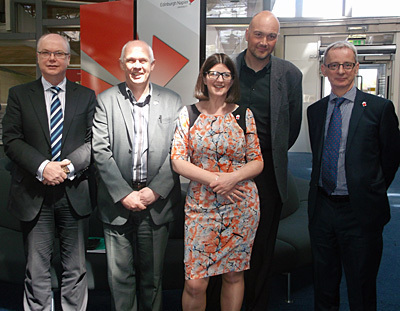 On Thursday 23rd May, 2013 we gathered at a lovely venue in Edinburgh Napier University to celebrate the 20 TRFS managers who have recently completed the Professional Development Award in 'Management of Behaviour Support'.
This award, which was developed and is delivered by our Positive Behaviour Support Team, is a university-accredited qualification which provides managers with a year-long training in the theory and practice of Positive Behaviour Support. The award is unique within Scotland and TRFS is the only organisation to offer this type of qualification in Positive Behaviour Support.
The event was held to congratulate and celebrate the hard work and effort of all the managers who completed the award. Team & Area Managers attended to support their SSW and to join in the congratulations. Executive Directors from 3 of our regions were also part of the celebration – and Austen Smyth our CEO awarded the certificates to the managers, as well as adding his congratulations and thanks to them for all their hard work. It was clear that there was a real buzz about the day!
There were a number of external speakers and special guests who added to the special occasion....
Fran Alston, Assistant Dean of the Faculty of Health, Life & Social Sciences at Napier University opened the event and welcomed everyone to the University
Peter McCulloch, ADSW Representative on the Scottish Government Autism Reference Group, provided an entertaining and moving presentation about the importance of good quality support to people with autism – and the impact that this can have in changing the lives of individuals
Mary Hattie, from the Mental Welfare Commission Scotland spoke about the work of the Commission and said that the work done by managers via the PDA was recognised by the Commission as an example of positive practice

In addition, 2 of the managers who had completed the PDA spoke about their experience of undertaking the course – and about the impact of the course on the people they support.
Maria Murray from our Johnstone service gave an excellent example of how the course can make a real difference in the life of people we support; she talked about the journey made by Craig, a young man with autism, and how his support had changed and improved throughout the course
Margaret Stewart from Centenary Place in Fife gave an eloquent and detailed talk about the changes for Matthew since she has undertaken her PDA. She included some very positive feedback both from staff and from Matthew's mother about the impact of the course

Both speakers used photos to illustrate the changes for individuals and gave lots of examples of both Craig & Matthew having fun – at the 'roll shop', at the driving range, playing snooker, or making cakes....all of them demonstrating that even people with very complex needs and challenging behaviours can live life to the full in the community.