Eden Scott's Ben Nevis Challenge 2014 for TRFS
Friday 14 March 2014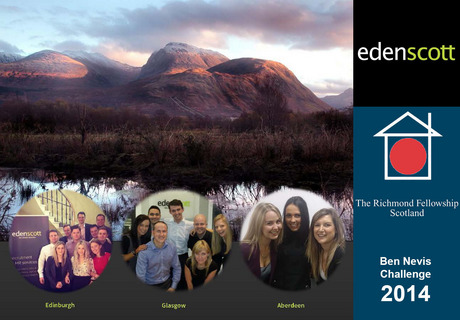 Putting their energy and endurance to the test, twenty one employees from Scottish recruitment business Eden Scott are embarking on an epic climb of Britain's highest peak to raise money for The Richmond Fellowship Scotland.
The staff of Eden Scott have always undertaken a range of charitable activites, however this is their first countrywide challenge. Climbing Ben Nevis was originally an idea for a team-building challenge but they quickly decided that they would like to do this for a good cause.
Each of the participants were invited to put forward a charity of their choice and Nicolle Sinclair from the Edinburgh office put forward The Richmond Fellowship Scotland as her young cousin is supported by us. Although all of the nominations were worthy causes, The Richmond Fellowship Scotland became the charity of choice on this occasion. We are obviously grateful for their support!
Ben Nevis stands at 1,352m and the team are undertaking a rigorous and gruelling training programme before tackling the mighty mountain on 31st May 2014. You can follow the team's progress on the Eden Scott blog which you can visit by clicking here: http://www.edenscott.com/blog
How you can help
They are hoping to raise over £2,000 to help provide social care services to those with mental health difficulties, learning disabilities, autism, dementia or alcohol and drug related issues.
If you would like to support them on this endeavour, you can find out more and make a donation by clicking here: https://mydonate.bt.com/fundraisers/edenscott
About Eden Scott
Established over ten years ago, Eden Scott employs over seventy recruitment consultants across its offices in Edinburgh, Glasgow and Aberdeen.
The business delivers a range of complex recruitment solutions in both professional and technical staffing across permanent, temporary and contract positions: http://www.edenscott.com/
About The Richmond Fellowship Scotland
The Richmond Fellowship Scotland is a charity which supports over 2000 people across Scotland with a broad range of needs to live as independently as possible in their own homes and communities.
We are the largest provider of social care services in Scotland, providing personalised, high-quality community-based support services for those who require support in their lives. Some may have mental health difficulties, learning disabilities or autism; others may have dementia, alcohol or drug issues or forensic backgrounds.
All of our services work in person-centred ways to offer choice promote inclusion and maximise ability. http://www.trfs.org.uk