Ensuring excellence in services
Tuesday 6 May 2014
Austen Smyth, (CEO of The Richmond Fellowship Scotland), recently visited the East and West Dunbartonshire Supported Living services in order to recognise the service's achievement in retaining grade 5 (very good) and a grade 6 (excellent) in their most recent Care Inspectorate evaluation.
During this visit Austen spotted a host of well written, practical and accessible working tools on how to make a service very good and indeed excellent.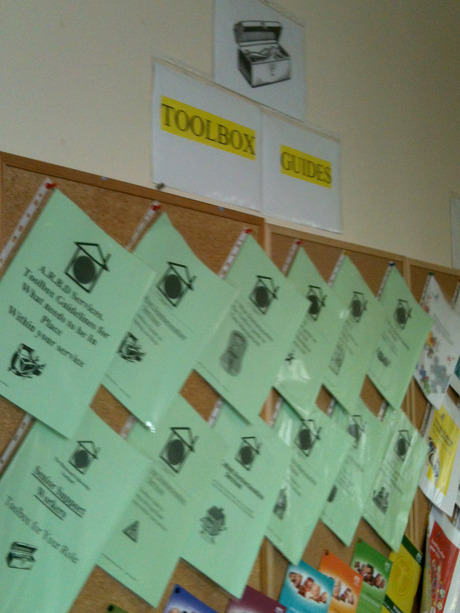 The following working tools were used by staff at all levels to make their service perform well and achieve outcomes for vulnerable people. These included:-
What needs to be in place in your service
Your role as an individual staff member
How to maintain a positive attitude
How to maintain a Support Plan
How to maintain support co-ordination
How to maintain confidentiality
How to time manage
How to fulfil the role of a Senior Support Worker
Austen wanted to congratulate all involved for ensuring that their service to the People We Support continues to acheive excellence.
About The Richmond Fellowship Scotland
The Richmond Fellowship Scotland is a charity which supports over 2000 people across Scotland with a broad range of needs to live as independently as possible in their own homes and communities.
We are the largest provider of social care services in Scotland, providing personalised, high-quality community-based support services for those who require support in their lives. Some may have mental health difficulties, learning disabilities or autism; others may have dementia, alcohol or drug issues or forensic backgrounds.
All of our services work in person-centred ways to offer choice, promote inclusion and maximise ability.
We manage in the region of 190 services in both rural and urban settings, employing more than 2500 staff. In working with 28 local authorities, we have a proven track record and understanding in providing high quality services to meet the unique needs and aspirations of the individuals we support.
We are people-focused, motivated by the needs of individuals and communities, not profit. We are driven by strong values and a firm commitment to choice, dignity and social inclusion.