Sheriff Park Fundraiser a Great Success
Friday 30 May 2014
The Sheriff Park service held a social night at Fernhill Community Centre on 3rd May to raise funds to develop our back garden area. This was a great success and we raised £1,126.68 – an amount way beyond our expectations!
People were entertained by a brilliant jig band and there was a great display of dancing from the local Jump 'n Jive dance group. Refreshments were provided with an Indian/Italian-style buffet and the bar kept the refreshments coming 'til 11.30pm.
There were great raffle prizes – tours of Rangers, Celtic and Hampden football grounds, vouchers for dining out, massages, facials as well as lovely food hampers. Gary and Peter presented the delighted winners with their prizes.
There was also a rendition of 'Happy Birthday' and a cake and gifts for an obviously surprised and delighted Gary and Peter who both celebrated their birthday on the day. Everyone who attended said that they had a great time.
The money will be used to develop our back garden with a lawned area, an eco friendly greenhouse, a water feature, a seating area and a small vegetable garden.
I'd like to say a big thank you to all who planned and worked on the night and to the people and organisations who kindly contributed prizes and to all those who attended on the night.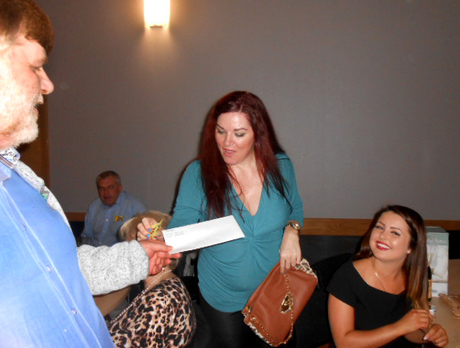 Peter hands out a prize to Bernadette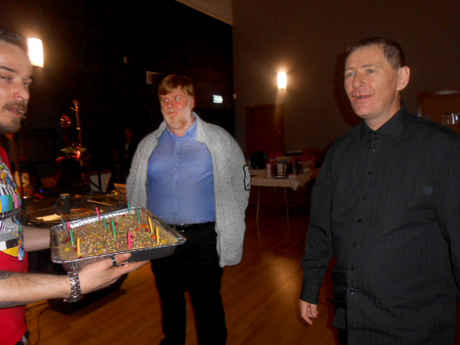 Happy birthday to Gary and Peter
Craig Agnew, Senior Support Work – Sheriff Park Service