TRFS achieves RoSPA Gold Status
Friday 20 June 2014
The RIchmond Fellowship Scotland was among the winners at the Royal Society for the Prevention of Accidents (RoSPA) Occupational Health and Safety Awards 2014 and has achieved the top Award of Gold status.
RoSPA Gold Award winners have achieved a very high level of performance, demonstrating well developed occupational health and safety management systems and culture, outstanding control of risk and very low levels of error, harm and loss.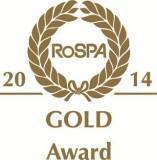 As the UK's safety charity, RoSPA's mission to save lives and reduce injuries covers all ages and stages of life. In support of this mission, the RoSPA Awards, which date back 58 years, recognise commitment to continuous improvement in accident and ill health prevention at work. Through the scheme, which is open to businesses and organisations of all types and sizes from across the UK and overseas, judges consider entrants' overarching occupational health and safety management systems, including practices such as leadership and workforce involvement.
David Rawlins, RoSPA's awards manager, said: "The RoSPA Awards encourage the raising of occupational health and safety standards across the board. Organisations that gain recognition for their health and safety management systems, such as The Richmond Fellowship Scotland, contribute to a collective raising of the bar for other organisations to aspire to, and we offer them our congratulations."
Tony Priest, Health and Safety Advisor for TRFS said: "We are delighted to receive the award and to have our commitment to continuous improvement to ensure that our workplaces and services are safe for staff, people we support and visitors recognised."
RoSPA's awards are non-competitive, grading achievement at merit, bronze, silver and gold levels.