Healthy Eating Programme gets a Maggie boost!
Thursday 17 July 2014
The weekly Healthy Eating Programme at The Richmond Fellowship Scotland's Ashfield service has had a real shape up with the arrival of our most recent resident Margaret Collins.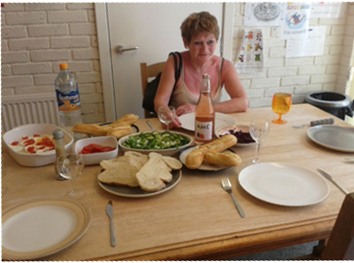 Margaret has taken on the responsibility of steering the program, from the Tuesday evening discussion to the collection of the ingredients with support from staff on the Wednesday through to the cooking and preparation. But don't worry fellow residents share in the cleaning up!
All of the residents have really embraced our idea of an indoor picnic to give them a selection of choices of fresh fruit and vegetables available on the table. The residents have really embraced trying new food and we have had scores of 4s and 5s out of 5 across the board. It has been a real success and we plan to continue it. Big thanks to Margaret for all her hard work as the house head chef!