Eggs-cellent result in Alford
Wednesday 30 July 2014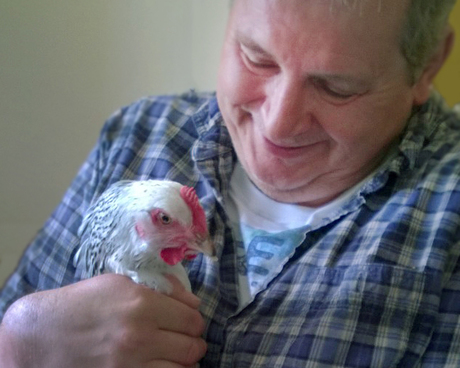 Participatory funding is an innovative initiative pioneered by The Richmond Fellowship Scotland as a way of handing over funding to the People We Support for them to shape, design and control projects that achieve what they want. Our only requirement is that the money is spent on having some fun!
This funding has made it possible for the People We Support at our care home in Alford to have their own chickens as well as build a coup to house them on the grounds.
Many of the People We Support are from rural areas and have grown up on or near farming communities. They decided that they would like to spend this money on acquiring three chickens which they chose from a local farm and then they named them Megan, Mary and Michael Schumacher.
Looking after these chickens has helped to improve the interaction amongst the People We Support and they have really enjoyed taking care of these new residents.
Now, everyone is looking forward to when they start laying some eggs!
(Picture: Fergus and Michael Schumacher)
About Participatory Funding
Find out more about The Richmond Fellowship Scotland's Participatory Funding here: http://www.trfs.org.uk/news/418_people_we_support_receive_80_000_for_fun_outcomes