TRFS in the Park Returns!
Tuesday 26 August 2014
Last year's 'TRFS in the Park' was such a great success that it's coming back to Queen's Park, Glasgow on Saturday August 30th 2014.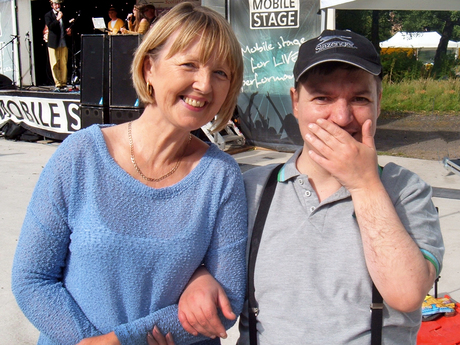 Here, Charlene Clelland, a Support Practitioner from our Castlemilk Service talks about how last year's event came about and what to look forward to this year:
"The original idea of TRFS in the Park came up in keyworking with Charlene Clelland, a Support Practitioner from Castlemilk and Jean, one the people she provides support to.
Jean is a lover of music and they thought a festival would be a great event as Jean had never been to any type of event like that before and it went from there. We hoped to give everyone a chance to showcase their talents whether it be singing, playing an instrument or helping organise the event. We also hoped to help challenge stigma by having it in a public park and inviting members of the public to join us and enjoy the great talent.
Last year, the event attracted a surprise visit from Peter Mullan, star of stage and screen, and there were also a number of supported individuals who took to the stage for a spur of the moment performance of a song or two - this went down a treat.
We are repeating the event as everyone present had asked for it to happen again. We had feedback from supported individuals who felt amazing after getting on stage and performing, feedback from families who seen their family member achieve something they never thought possible and supported individuals who had never had the opportunity to go to any sort of music event before and loved being at a 'festival'. We also had more supported individuals offering to help organise it and be part of making it bigger and better.
This year we have added bouncy castle, tombola, refreshments etc to make it more of a family event so more people could come along and enjoy the day with the focus still being on the music.
We have more individuals taking part this year by introducing acts on stage, helping with stage management and working on stalls to raise funds for their service. More people want to be involved in playing a part of this years event and this gives supported individuals a really great opportunity to experience new things and help them achieve things they never thought they would be able to.
This year's acts include Deborah from Elliston, Dylan from the East End, Samual from Ashfield House, Alan from Natural Breaks, staff from Elliston drive, Butterbiggins Road and Natural Breaks. All of these performers are giving their time and talent for free to which we are very grateful.
We would also like to thank Alison, Jean and Alex from the Castlemilk service who have been the individuals working with myself to organise this."
'TRFS in the Park' will take place at the Queens Park Arena, Queens Park, Glasgow (Victoria Road Entrance) on Saturday 30th August 2014 from 12pm-5pm
This event is open to all. If you are one of the People We Support or are supporting someone who is, please could you contact Charlene at the Castlemilk Service before attending and she will advise you of the additional facilities being provided. Thanks.
About Participatory Funding
Participatory funding is an innovative initiative pioneered by The Richmond Fellowship Scotland as a way of handing over funding to the People We Support for them to shape, design and control projects that achieve what they want. Our only requirement is that the money is spent on having some fun!
Find out more here: http://www.trfs.org.uk/news/418_people_we_support_receive_80_000_for_fun_outcomes