Outcomes are Fun project recognised by Scottish Government
Friday 13 February 2015
Participatory Budgeting is recognised internationally as a way for local people to have a direct say in how, and where, funds can be used to address local requirements.
When Participatory Budgeting is adopted its use can be very important in helping individuals feel connected to each other and to their communities. It can instil a sense of ownership, trust and connectivity.
The Scottish Government supports Participatory Budgeting as a tool for community engagement and as an important resource to build on the wider development of participatory democracy in Scotland. It sits alongside the objectives of the Community Empowerment (Scotland) Bill introduced to the Scottish Parliament in June 2014. Since then, the Scottish Government has been raising awareness of Participatory Budgeting and setting the conditions for it to be delivered in a meaningful and sustainable way in Scotland. This work is being taken forward with advice from the Participatory Budgeting Working Group.
Responses to a recent Participatory Budgeting survey, a report on a Participatory Budgeting Learning Event held in October 2014 and a report on six training events delivered to local authorities by Participatory Budgeting Partners during Autumn 2014, all called for examples of Participatory Budgeting Projects in Scotland. The Richmond Fellowship Scotland are delighted to be included in the resulting document that was recently published by the Scottish Government. This was to publicise Participatory Budgeting to a wider audience and encourage further engagement by other organisations by celebrating successful projects.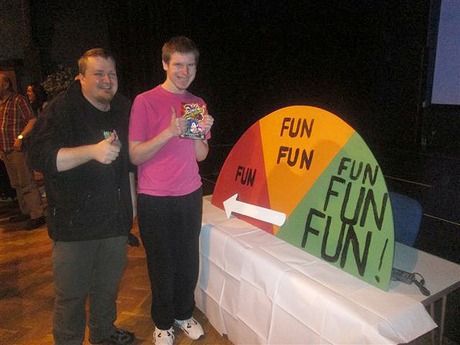 In 2013 The Richmond Fellowship Scotland held and funded an 'Outcomes are Fun' Participatory Funding event.
The aim of the project was to give over control and creativity to vulnerable people to achieve the type of outcomes they wanted in order to have fun. Local steering groups were set up to develop events; consisting of vulnerable people and staff. Vulnerable people included those who were clinically unwell or had a learning disability. Support staff helped support individuals to discuss their ideas and make their proposals.
As an example of how this works locally, the Richmond Fellowship's Central Region held its voting event in a venue in Glasgow that was easily accessible by public transport to ensure inclusivity. Refreshments were provided to help create a welcoming atmosphere. People constructed their bids, wrote a summary of them and then presented a three minute summary of their funding proposal.
Participants were supported to vote on the bids using a voting ballot paper. Votes were impartially counted by a local Care Inspectorate Inspection Office (regulator) and the organisation's Board Chairperson.
This approach to involving the People We Support in developing and presenting their bids was replicated in our other Regions (East, South and North).
To date, a total of over £65,000 has been allocated to various projects throughout The Richmond Fellowship Scotland. The Participatory Funding process resulted in encouraging real participation and handing over financial control, helped improve skills and raise confidence of the People We Support. Organisational skills were developed and a fun time was had by all.
Further details about this report can be found on the Communities Channel Website which is hosted by the Scottish Community Development Centre and funded by the Scottish Government: http://www.communityscot.org.uk/features/participatory-budgeting/