Committed to Excellence Award for Richmond
Monday 29 June 2015
The Richmond Fellowship Scotland were pleased to pick up a Committed to Excellence Award from Quality Scotland at their annual Scottish Award for Business Excellence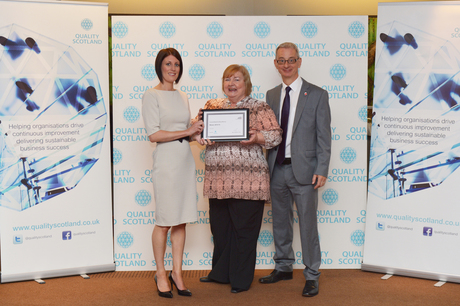 Quality Scotland was delighted to host yet another fantastic Scottish Awards for Business Excellence Awards Ceremony in Glasgow on Tuesday 16th June, 2015 at the Radisson Blu, Glasgow.
The Scottish Awards for Business Excellence are presented to organisations that are recognised for significant achievement on their journey towards excellence.
Quality Scotland is very proud to recognise those organisations that embrace the spirit and vision of excellence, making a difference in Scotland as well as helping to achieve our mission of 'Making Excellence a National Characteristic of Scotland'.
The Awards, first launched in 1994, are now established as one of the most prestigious Awards ceremonies in the Scottish calendar and recognise organisations from across all sectors that demonstrate principles of excellence assessed against the European Foundation of Quality Management's (EFQM) objective measures of world class performance.