New CALM Instructors for TRFS
Thursday 23 July 2015
Eight staff from The Richmond Fellowship Scotland have undertaken their CALM Instructor training to add to the already existing pool of CALM trainers within the company.
So far they have completed their theory and practical courses with great success, with only the written assignment still to complete.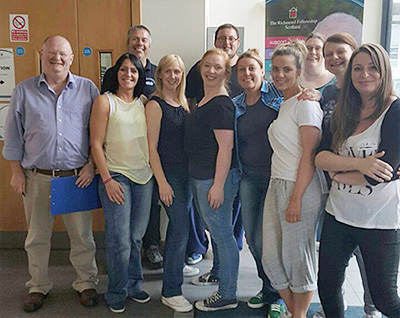 Congratulations (and best of luck with the paper) to Louise Lennox, Lyndsy McGuigan, Ruth Adams, Tia Martin, Alison McKenzie, Paula Hose, Susan Cartwright and Claire McCauley. Cameron Whyte also participated in his reaccreditation. It will be a great resource to have more CALM trainers available and all those who attended report that they had a lot of fun on the training.
We would like to say thank you to Alistair and Brodie from CALM services for delivering the course.
Find out more about our unique Positive Behaviour Support Team, who provide innovative, specialist support for people with complex behaviours and additional support needs: http://www.trfs.org.uk/what_we_do/positive_behaviour_support