Health & Safety Week 2015
Monday 12 October 2015
The Richmond Fellowship Scotland participated in the UK National Health & Safety Week at the end of August 2015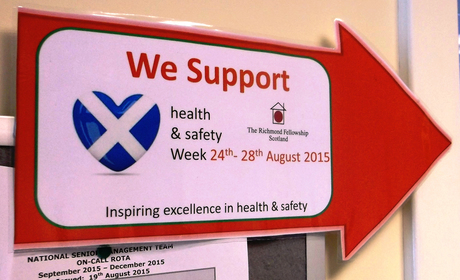 The Health & Safety Team travelled across the length and breadth of Scotland during their road show, sharing knowledge with staff and people we support. A number of guest speakers were also invited to share their expertise and knowledge broadening the range of topics.
During each day there were short presentations, quizzes and interactive games on topics including choking, fire safety, Healthy Working Lives, medication, infection control, bed rails and manual handling. Although making these events fun was high on the agenda, people told us how much they learnt and how they could see its practical uses, for example, with the training they received on choking they could save someone's life.
The favourite topic by far was Healthy Working Lives. We started the session with alcohol awareness and demonstrating the amount of alcohol content in some drinks and then the fun part began! People wore the 'beer goggles' (which are designed to simulate being drunk) and then saw how difficult it was to carry out simple tasks like walking in a straight line or pick up an item from the floor when your perceptions are impaired.
People were also amazed and sometimes shocked at the amount of fat, sugar or salt contained in everyday products such as ice cream, fizzy juice, crisps, hamburgers, cake and more.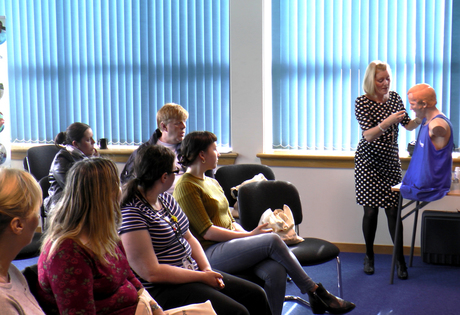 Our thanks go out to the Glasgow Healthy Working Lives Team for their support and the props that they lent us for these events. We would like to give a special thank you to Jenny Hill, Danielle Mitchell and Nicky Lynch for there efforts in demonstrating, and promoting Healthy Working Lives at the events resulting in five services now signing up for the award.
During the week there was an opportunity to win an Apple iPad for the best health and safety idea or suggestion. The winner was Lynsey Scott from the Blackford Service in our Central region. Lynsey's submission was how to motivate services to achieve excellent health and safety standards by offering an award for the top three scores in the Health & Safety Audit. In this way we can publish a Health & Safety Audit League Table of Scores for each service. This would motivate staff and services to achieve the best scores and try to win an award for their achievements while also driving up good safety standards.
Some information on the road show event:
184 attendees;
42 hours of events;
720 miles travelled;
28 Facebook posts reaching 3800 people;
5 new services and offices signing up for Healthy Working Lives;
When asked, our supported individuals said they would like to attend Health& Safety Week again next year.